Wise Music Classical Season Highlights 2020-2021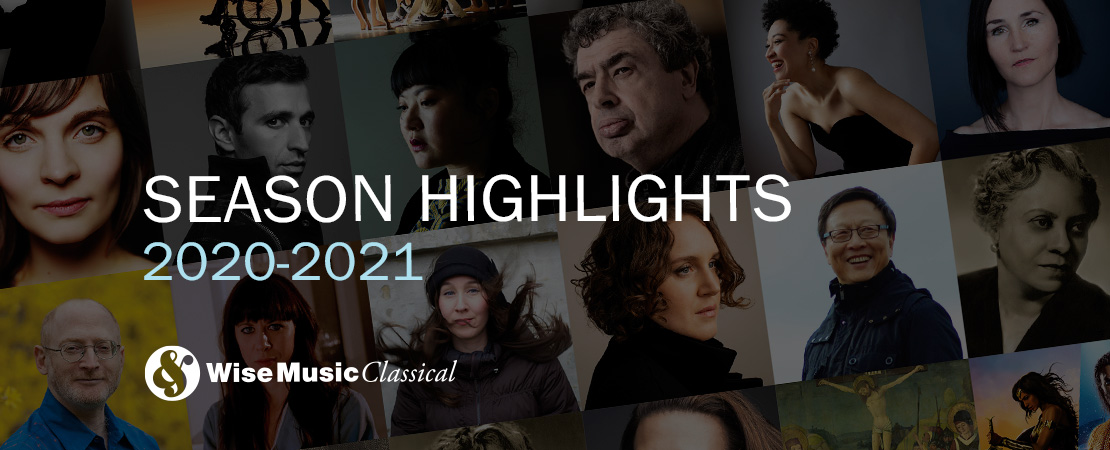 Welcome to the Wise Music Classical 2020-2021 Season Highlights. In the midst of worldwide change and uncertainty, our composers continue to create new work for the stage, concert hall, public arena, and various digital platforms.
Due to COVID-19, many of the following premieres have been or will be postponed, but we have nonetheless included an overview of planned performances to honor the innovation, collaboration, and financial support that led to their creation. Our Season Highlights Performance Listing will be updated throughout the season as new plans take shape. We look forward to hearing all of these works in due course, and hope that you do as well.
New Signings | Opera | Dance | Chamber | Orchestra | Performance Listing
Du Yun, Photo: Xiao Nan; Hildur Guðnadóttir, Photo: Antje Jandrig; Aaron Jay Kernis, Photo: Richard Bowditch; Jeanine Tesori, Photo: Rodolfo Martinez
Du Yun
Continuing to revolutionise the opera scene, composer Du Yun reunites with Angel's Bone producer Beth Morrison Projects (BMP) and librettist/director Michael McQuilken for In Our Daughter's Eyes, a monodrama for baritone Nathan Gunn. This meditation on fatherhood was commissioned by BMP and debuts at LA Opera in the spring. Du Yun also participates in LA Opera's Digital Shorts program, an online initiative pairing various composers (including Gabriela Lena Frank, Missy Mazzoli, and Matthew Aucoin) with cutting-edge filmmakers, animators, and choreographers. On the East Coast, the New York Philharmonic gives a world premiere of a new work for large ensemble. Her first album with the JACK Quartet, A Cockroach's Tarantella, is released on Modern Sky Records at the top of the season.
Hildur Guðnadóttir
Widely recognised for her historic awards season sweep, Hildur Guðnadóttir scored Todd Phillips' Joker (2019), for which she received an Academy Award, Golden Globe, and a BAFTA. She has been invited to serve as a collaborator for Stories of Cinema, the opening exhibition within the highly anticipated Academy Museum of Motion Pictures. As she continues to compose works for film, media, and the concert hall, Guðnadóttir is also working on a new solo album for Deutsche Grammophon.
Aaron Jay Kernis
In the past four decades Aaron Jay Kernis has been at the cutting edge of modern composition, writing music that is by turns lyrical and virtuosic, political and synesthetic, expansive and intimate. His colourful Violin Concerto receives its UK premiere in the spring with soloist James Ehnes. Edensongs, a new work for period instruments and voices, with text by MacArthur Fellow Peter Cole, premieres through a commission from the Yale Institute of Sacred Music and Philharmonia Baroque, while a song cycle for Nicholas Phan and the Seattle Chamber Music Players is commissioned by Tippett Rise.
Jeanine Tesori
Lauded for her musical theatre work, award-winning composer Jeanine Tesori has rapidly become an important figure in the world of opera. Her latest opera Blue recently won the Music Critics Association of North America (MCANA) 2020 Award for Best New Opera, and along with Missy Mazzoli she is one of the first female composers to be commissioned by the Metropolitan Opera. This season, Blue is staged by librettist Tazewell Thompson at the Lyric Opera of Chicago.
Sufjan Stevens
In March 2020, G. Schirmer, Inc. announced a new publishing administration agreement with the singer-songwriter and composer Sufjan Stevens. An Academy Award-nominee and icon of 21st-century independent music, Stevens has a flourishing catalog of ballets and concert works, which have now found a home at G. Schirmer.
Anthony Roth Costanzo, Photo: Matthew Placek; Missy Mazzoli, Photo: Caroline Tompkins; Lady Macbeth im Wahn, Daniel Niklaus Chodowiecki, 1778; The Diving Bell and the Butterfly
John Corigliano
The Lord of Cries is the long-awaited second opera by John Corigliano, premiering at Santa Fe Opera in summer 2021. Set to a libretto by Mark Adamo, the opera takes as its inspiration two literary classics, The Bacchae by Euripides and Dracula by Bram Stoker. In the words of Adamo, "Euripides admitted what Stoker repressed: the monster isn't on the mountain, or in the city, but in the mirror." Countertenor Anthony Roth Costanzo makes his Santa Fe Opera debut starring as Dionysus in James Darrah's world premiere production.
Daniel Cátan
Rappaccini's Daughter, the beloved first opera by Daniel Catán, has its Argentine Premiere at Teatro Colón, in Mark Robson's reduced orchestration. The libretto by Juan Tovar is based on a play by Octavio Paz after a short story by Nathaniel Hawthorne; set during the Italian Renaissance, the opera is a multi-layered tale of love, ethics, science, and revolution. The Midwest premiere of Catán's final opera Il Postino takes place at Chicago Opera Theater, in a production by Crystal Manich.
Donnacha Dennehy
The First Child is a new opera by Donnacha Dennehy and playwright/director Enda Walsh, in which the bullied becomes the bully, and a vicious cycle is set in motion. Premiering at the Galway International Festival for the Arts, The First Child concludes a trilogy of operas by Dennehy and Walsh that reflects on the suburban, middle-class Dublin existence of their youth, "where the ordinary rubbed up against the extraordinary, the dystopian darkening the utopian."
Philip Glass
The circus meets the opera in a genre-bending world premiere by Philip Glass. Circus Days and Nights is based on Robert Lax's poetry collection of the same name with a libretto by David Henry Hwang and Tilde Björfors. Cirkus Cirkör and Malmö Opera partner give the world premiere.
Missy Mazzoli
Building on their reputation for creating powerfully dramatic works for the stage, Missy Mazzoli and librettist Royce Vavrek join forces once more for The Listeners. Inspired by the phenomenon known as "The Hum," The Listeners is co-commissioned by Norwegian National Opera, Opera Philadelphia, and Lyric Opera of Chicago. Breaking the Waves, inspired by Lars von Trier's transcendent film, is staged in two different productions by Tom Morris for Houston Grand Opera, and by James Darrah for Los Angeles Opera.
Marc Neikrug
A Song by Mahler is an evening-length chamber opera by Marc Neikrug, commissioned by Chamber Music Northwest, Santa Fe Chamber Music Festival, Chamber Music Society of Lincoln Center, and La Jolla Music Society. The world premiere production by Doug Fitch follows the story of a celebrated concert singer, famous for a particular Mahler love song, and her battle with early onset Alzheimer's.
Esa-Pekka Salonen
At Finnish National Opera, Laila is an interactive exhibition co-created by Esa-Pekka Salonen that rejects the traditional roles of the performing arts. In collaboration with Paula Vesala, Tuomas Norvio and the Ekho Collective, Salonen's continued interest in new media flourishes.
Dmitri Shostakovich
The controversial Shakespeare adaptation Lady Macbeth of the Mtsensk District is a cornerstone of both the life and oeuvre of Dmitri Shostakovich. As part of their extensive survey of the composer's orchestral work, the Boston Symphony Orchestra, joined by the Tanglewood Festival Chorus and a cast of brilliant singers perform the entire opera in concert at Symphony Hall and Carnegie Hall.
Joby Talbot
Chester Music is delighted to renew its publishing agreement with Joby Talbot, whose latest opera premieres this season. Inspired by the profound autobiography of Elle magazine editor Jean-Dominique Bauby, The Diving Bell and the Butterfly is commissioned by The Dallas Opera and set to a libretto by Gene Scheer. After suffering a major stroke at age 43, Bauby learned to communicate through blinking his left eye; his story of resilience and imagination is brought to life in a production directed by Leonard Foglia. 
Rufus Wainwright
Prima Donna, the first opera by Rufus Wainwright and co-librettist Bernadette Colomine, premieres in a new reduced orchestration at the Royal Swedish Opera in October. Set in 1970s Paris and inspired by the downfall of the legendary Maria Callas, Prima Donna investigates the pitfalls of celebrity and the burden of genius.
Will Tuckett, Photo: Barbara Banks; Jurgita Dronina, James Kudelka's Cinderella, Photo: Aleksandar Antonijevic; Sonia Rodriguez, A Streetcar Named Desire, Photo: Alexsander Antonijevic
John Adams
Set to Shaker Loops by John Adams and commissioned by Birmingham Royal Ballet, Will Tuckett's Lazuli Sky is a timely addition to the contemporary dance repertoire. The piece is named after the deep blue gemstone lapis lazuli, often used in Renaissance landscape painting to conjure the beauty of the sky. Months of gazing skyward during lockdown have inspired the creative team to develop this hopeful, regenerative ballet.
Sergei Prokofiev
Cinderella, the popular fairytale ballet with music by Sergei Prokofiev, was first staged by James Kudelka for the National Ballet of Canada in 2004. Rejecting the traditional narrative of a young girl rescued by a wealthy price, the scenario instead focuses on the lovers' connected growth, and the friction between the natural and material worlds.
Rodion Shchedrin
Carmen, a new work by Jorma Elo for Boston Ballet, is set to Rodion Shchedrin's Carmen Suite and highlights the contemporary resonance of the jealousy, passion, and betrayal from Bizet's classic opera.
Alfred Schnittke
John Neumeier's 1983 auteur staging of Tennessee Williams' A Streetcar Named Desire returns to National Ballet of Canada this season; Act II is set to Symphony No 1 by Alfred Schnittke. The scenario begins at the harrowing conclusion of the play, and from there weaves through Blanche DuBois' troubled memories.
Lines Made by Walking, Photo: Joshua Cripps; Ruby Hughes, Photo: Camillo Eschevarri; ask the river, Photo: Elspeth Parsons; Blick, Raija Malka
John Luther Adams
The JACK Quartet releases a new album of music by frequent collaborator John Luther Adams on Cold Blue Music this fall. Featuring the world premiere recordings of Lines Made by Walking and untouched, the record offers an intimate glimpse into the composer's pioneering use of space and texture, influenced by time spent in Alaska, Mexico, and Montana. In September, Farrar, Straus and Giroux publishes Adams' memoir Silences So Deep.
Helen Grime
The latest string quartet from Helen Grime is commissioned by Wigmore Hall and the Santa Fe Chamber Music Festival, where it premieres in summer with the Heath and Flux Quartets. This autumn, BIS Records releases the world premiere recording of Bright Travellers, a Wigmore Hall-commissioned song cycle written for soprano Ruby Hughes and pianist Joseph Middleton, set to poems on motherhood by English poet Fiona Benson.
Rachel Portman
ask the river is an album of new piano music from the Academy Award-winning composer-pianist Rachel Portman, released on the Wise Music label Node Records. Portman wrote the album to explore something "very tender and gentle around the notion of love. Love of the beauty of nature and wildlife, as well as love for human others. It seemed it needed to be very still...The music almost holds its breath at the beginning and then gradually releases and opens out as it progresses." Portman is joined on ask the river by violinist Clio Gould and cellist Caroline Dale.
Kaija Saariaho
A new production of Only the Sound Remains, the acclaimed Noh-inspired chamber opera by Kaija Saariaho, is directed by Aleksi Barrière and premieres at Tokyo Bunka Kaikan and the Palau de la Musica this season. Reconnaissance is a new choral work, set to text by Barrière, and premiering as part of Saariaho residencies at the Palau and November Music. Debuting in February is a new work for Ensemble Connect, commissioned by Carnegie Hall. In her native Finland, Saariaho collaborates with visual artist Raija Malka on an installation for Helsinki's Amos Rex museum, which opens at season's end. The exhibition title, Blick (Gaze), is a reference to visual artist Wassily Kandinsky's poem from 1912 that is included in the composer's soundscape.
Augustin Hadelich, Photo: Rosalie O'Connor; Semyon Bychkov, Photo: Peter Adamik; Chronicles of the Picaflor; Wonder Woman
John Corigliano
The newest addition to John Corigliano's formidable catalog of works for soloist and orchestra is Triathlon, a concerto for saxophone commissioned by the San Francisco Symphony for the saxophonist Timothy McAllister. Utilising soprano, alto, and baritone saxophones across three movements, the soloist traverses through lyrical and acrobatic passages in this major addition to the classical saxophone literature.

Donnacha Dennehy
Augustin Hadelich debuts a new Violin Concerto by Donnacha Dennehy come springtime, rich in the composer's emotive and insistent microtonal language. This work is co-commissioned by the Oregon Symphony, South Netherlands Philharmonic and the Aspen Music Festival. Also new from Dennehy is Brink, a short orchestral prelude to Ludwig van Beethoven's Symphony No 8 in F Major, Op. 93, commissioned by the Indianapolis Symphony Orchestra. 
Bryce Dessner
A new work for orchestra by Bryce Dessner, co-commissioned by Czech Philharmonic Orchestra, Leipzig Gewandhaus Orchestra, Tonhalle Orchestra and National Symphony Orchestra, premieres across Europe under legendary Maestro Semyon Bychkov. Dessner also adds two major works to his catalog of concerti this season: Concerto for Trombone, written for Jörgen van Rijen and co-commissioned by Württembergisches Kammerorchester Heilbronn, Orchestre national d'Île-de-France, Orchestre Philharmonique Royal de Liège and Dallas Symphony Orchestra, and a Violin Concerto for Pekka Kuusisto, commissioned by Frankfurt Radio Symphony, San Francisco Symphony, and Philharmonia Orchestra. The composer also receives portrait concerts in Lyon, Munich, and Rome.
Gabriela Lena Frank
Chronicles of the Picaflor is a major new work by Gabriela Lena Frank, co-commissioned by the Philadelphia Orchestra and Oregon Symphony. This episodic composition for large orchestra retells the Peruvian creation myth of the hummingbird, and is a collaborative project with the School District of Philadelphia and Mural Arts Philadelphia. Pachamama Meets an Ode, Frank's companion piece to Beethoven's Symphony No 9, premieres with Uppsala Chamber Orchestra, who co-commissioned the work with the Philadelphia Orchestra and Classical Movements. Other premieres this season include the string serenade Haillí-Serenata, commissioned by the Chicago Symphony Orchestra.
Philip Glass
Two new orchestra pieces by Philip Glass premiere this April, respectively commissioned by the LGT Young Soloists Orchestra and the National Arts Centre Orchestra (NACO). The latter work, a salute to freedom of the press, is dedicated to the memory of the Canadian-born journalist and ABC News anchor Peter Jennings, and will travel to Carnegie Hall with NACO after the world premiere in Ottawa.
Rupert Gregson-Williams
Now available from Schirmer Theatrical and Fortress Talent Management are Aquaman in Concert and Wonder Woman in Concert, two exciting new productions from the DC Extended Universe. These films, which mark the respective DC debuts of directors James Wan and Patty Jenkins, are screened live as an orchestra performs their thrilling scores, both composed by ASCAP and BMI award-winning composer Rupert Gregson-Williams. 
Helen Grime, Photo: Benjamin Ealovega; Florence Price; Julia Bullock, Photo: Allison Michael Orenstein; Bright Sheng, Photo: Wah Lui
Helen Grime
Leila Josefowicz gives her first performance of the Violin Concerto by Helen Grime with the St. Louis Symphony this autumn; violent, virtuosic music covering the whole range of the violin is contrasted with more delicate and reflective filigree material that features oscillating natural harmonic passages and searching melodies. In Sweden, Musica Vitae and soprano Ruby Hughes tour a Grime world premiere in March.
Albert Guinovart
Spanish-Catalan composer Albert Guinovart continues his relationship with SONY Classical Records, with a new album out in October, featuring the Orquesta Sinfónica de Barcelona and conductor Diego Martín-Etxeberria. A pair of symphonic poems - El Lament de la Terra and El somni de Gaudí bookend Guinovart's Piano Concerto No 3, "Les mans del vent," featuring the composer as soloist. 
Nico Muhly
The Philharmonie de Paris dedicates a weekend to Nico Muhly's music in November, which includes the world premiere of In Certain Circles, a concerto for two pianos written for Katia and Marielle Labèque and co-commissioned by the Orchestre de Paris, New York Philharmonic, Düsseldorf Symphony, and Royal Liverpool Philharmonic. 
Ramón Paús
The Cantata en Fondo de Alborán by Ramón Paús premieres at the end of the season, with the Chorus and Community Orchestra of Madrid and under the direction of Victor Pablo Pérez. Paús' Viola Concerto De Profundis premieres with Paul Daniel leading the Real Filarmonía de Galicia, and featuring viola soloist Yuval Gotlibovich.
Florence Price
The 2019 discovery of an original set of parts to Florence Price's Piano Concerto in One Movement led to a new G. Schirmer edition. At Walt Disney Concert Hall, soloist Aaron Diehl and Maestro Gustavo Dudamel conclude the Los Angeles Philharmonic's season with this thrilling, compact discovery.
Lior Rosner
Metamorphosis is a new song cycle for countertenor Andrew Watts, written by the Los Angeles-based composer Lior Rosner. The piece sets four poems by Arjun Devanesan to a musical narrative, which explores personal metamorphosis with reference to Ovid's magnum opus of the same name. 
Poul Ruders
A new and novel harpsichord concerto by Poul Ruders is written for Mahan Esfahani and premieres at the top of the season with the Aarhus Symphony Orchestra; the concerto is co-commissioned by the Royal Scottish National Orchestra. In 2021, Ruders champion Thomas Adès conducts the German premiere of the composer's incendiary Symphony No 5 at the Elbphilharmonie.
Esa-Pekka Salonen
Esa-Pekka Salonen concludes his tenure as Principal Conductor of the Philharmonia Orchestra with the European premiere of Gemini, a pairing of the mythical twin pieces Castor and Pollux. As part of his first season as Music Director of the San Francisco Symphony, Salonen premieres a new song cycle written for soprano Julia Bullock.
Bright Sheng
Of Time and Love, a new viola concerto by Bright Sheng, is commissioned by the Curtis and Suzhou Symphony Orchestras, and composed for soloist and Curtis President Roberto Díaz. Carnegie Hall, National Arts Centre Ottawa, and the China National Center for the Performing Arts have also commissioned a short orchestral work by Sheng, to premiere with the latter's orchestra around the globe this season.
Crucifixion with Saints Cosmas and Damian, anonymous, 1425-1449; Outi Tarkiainen, Photo: Lars Skaaning; Anna Thorvaldsdottir, Photo: Anna Maggy; Joan Tower, Photo: Bernie Mindich
Dmitri Shostakovich
Worldwide performances of works by Dmitri Shostakovich include the Symphony No 5, which commences the season for the Orchestre de Paris under the baton of Marin Alsop, and the Symphonies No 13 and 14, featuring baritone Matthias Goerne, soprano Asmik Grigorian, and Mikko Franck conducting the Orchestre Philharmonique de Radio France. In the US, the Cincinnati Symphony Orchestra performs the Piano Concerto No 2 in F Major, with soloist Steven Osborne and conductor Louis Langrée. 
Bent Sørensen
The St. Matthew Passion by Grawemeyer-winning composer Bent Sørensen utilises double chorus, SATB soloists, and chamber orchestra, and draws upon the words of Edith Södergran, Anna Akhmatova, Emily Dickinson, Søren Ulrik Thomsen, Ole Sarvig and Frank Jæger, as well as the Bible. Its world premiere takes place at the Oslo International Church Music Festival, amidst a season of many country premieres of recent works by Sørensen.
Outi Tarkiainen
Songs of the Ice by Outi Tarkiainen is a new companion piece to her Midnight Sun Variations. Both works are inspired by the composer's experiences with the imposing Arctic climate, the spiritual journey of motherhood, and the changing of the seasons. Hannu Lintu premieres Songs of the Ice with the Finnish Radio Symphony Orchestra in the fall, while Sakari Oramo premieres another new work, The Ring of Fire and Love, with the Royal Stockholm Philharmonic Orchestra in the spring.
Anna Thorvaldsdottir
CATAMORPHOSIS is a new work for large orchestra by Anna Thorvaldsdottir commissioned by the Berlin Philharmonic, New York Philharmonic, City of Birmingham Symphony Orchestra, and Iceland Symphony Orchestra. Thorvaldsdottir's popular METACOSMOS continues to compel audiences worldwide with performances from Antwerp to Cincinnati, while AIŌN, her symphony in three movements has its homeland premiere in Reykjavik, with choreography by Erna Ómarsdóttir and the Iceland Dance Company
Joan Tower
Joan Tower commences the New York Philharmonic's season with the world premiere of 1920/2019, composed as part of the Philharmonic's PROJECT 19 initiative, celebrating the centennial of women's suffrage in the United States. In the summer of 2021, Alisa Weilerstein premieres a new cello concerto written by Tower at the Colorado Music Festival; the concerto is co-commissioned by the Detroit and National Symphony Orchestras.