New Opera Highlights from Wise Music Classical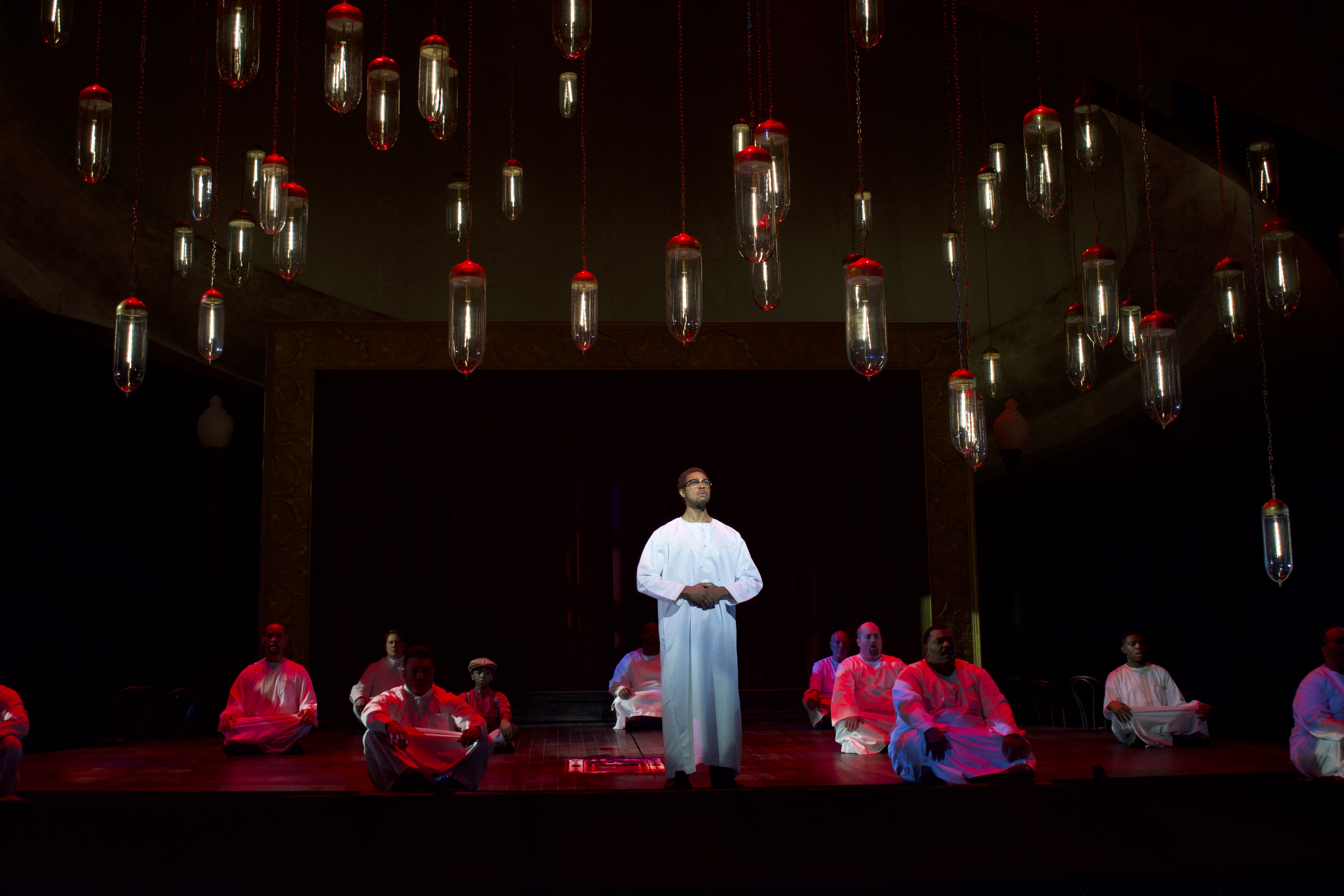 Wise Music Classical invites you to explore new highlights from our opera catalogue. In these recent and upcoming premieres, new productions, and premiere recordings, our composers and their creative collaborators explore subjects ranging from the historical (Hadrian, X: The Life and Times of Malcom X, The Diving Bell and the Butterfly) to the futuristic (Oryx and Crake), the fantastic (El último sueño de Frida y Diego, Florencia en el Amazonas, Die Kinder des Sultans) to the thoroughly contemporary (Grounded, Blue, Innocence, The Shell Trial). Threaded throughout these works are perennial themes of loss, longing, magic, art-making, and community. 
Listen to these works (where available) and other operatic/vocal work by these artists:
UPCOMING PREMIERES 


Eurydice
Matthew Aucoin/Sarah Ruhl 
Matthew Aucoin conducts the premiere of the new chamber orchestra version of Eurydice, opening in March 2024 at Boston Lyric Opera. Based on a play by librettist Sarah Ruhl, Eurydice explores the classic myth of Orpheus and Eurydice with keen attention to the inner life of its heroine. Throughout, the work "leavens seriousness with comedy" (Heidi Waleson, Wall Street Journal), especially in its fresh depiction of Hades and his underworld—Orpheus' aria that opens the gates to hell is sung in Latin at the demand of a trio of animated stones, who deadpan that "you can't sing here. Unless you sing in a dead language." Eurydice's musical and narrative languages are far from dead, however, especially in their tender depiction of both romantic and parental love and their rich consideration of the respective power of music and words. 
Grounded
Jeanine Tesori/George Brandt 
Following on the critical acclaim of Jeanine Tesori's 2019 Blue with Tazewell Thompson, Tesori's newest opera with librettist George Brandt investigates the psychology of a fierce fighter pilot who transitions to remotely operating a drone after an unexpected pregnancy. Advertised as "war with all the benefits of home," this new assignment's dark side gradually becomes clear as the boundaries of the protagonist's life begin to collapse. Like Blue, Grounded is sure to provoke serious thought on important contemporary issues (the ethics of drone strikes, the novel psychological costs of new forms of warfare) as well as deeply personal experiences of love and loss. Commissioned by and co-produced with the Metropolitan Opera, Grounded will premiere at Washington National Opera in October-November 2023, featuring Emily D'Angelo in the lead role.  
Orfeo
Claudio Monteverdi/Alessandro Striggio, arr. Nico Muhly 
Based on the same classic mythological material as Aucoin and Ruhl's Eurydice, Claudio Monteverdi's Orfeo is a pillar of early opera repertoire. Despite its importance, however, Orfeo does not have a standard orchestration by Monteverdi. For its first-ever performances of the work in July-August 2023, Santa Fe Opera has commissioned a new orchestration by composer Nico Muhly. Muhly's version of Orfeo is sure to feature the colorful instrumental writing of both his operatic and orchestral catalogues, with low brass that "rumble[s] in the depths" (Alexander Dick, Badiscje Zeitung), woodwinds that "comment shrill and sinister" (Oliver Class, opernnews.de), and phrasing "crackling with fast-paced ambition" (Helen Wallace, BBC Music Magazine). 
The Diving Bell and the Butterfly
Joby Talbot/Gene Scheer 
Based on the novel by Jean-Dominique Bauby, The Diving Bell and the Butterfly tells the story of Bauby's life after the massive stroke that left him with "locked-in syndrome," with his mind completely intact but his body almost totally paralyzed. Despite being able to communicate only by blinking his left eye, Bauby dictated the entirety of his novel letter-by-letter to his speech therapist and editor. Talbot and Scheer's opera is a moving treatment of this true story that meditates on our deep need to communicate and make sense of our lives through art and storytelling. The Diving Bell and the Butterfly premieres at The Dallas Opera in November 2023. 
The Shell Trial
Ellen Reid/Roxie Perkins, based on a play by Rebekka de Witt and Anoek Nuyens  
Ellen Reid and Roxie Perkins' latest operatic effort following their "incandescent" Pulitzer Prize-winning chamber opera p r i s m is centered on a 2021 legal case in which oil company Shell was ruled legally responsible for its contribution to climate change. The libretto offers a nuanced consideration of guilt, culpability, and the possible consequences of the climate crisis, with archetypal characters ("The Artist," "The CEO," "Climate Refugees") each given a chance to offer their perspectives. The dazzling musical range that Reid displayed in p r i s m—from the unnerving rhythmic groove of an awful club scene to moments of hauntingly pure choral singing—will doubtless lend each of these characters a unique musical voice. The Shell Trial opens with Dutch National Opera in March 2024 with stage direction by Gable and Romy Roelofsen.    
RECENT PREMIERES  
Itch
Jonathan Dove/Alasdair Middleton

Hailed as a new repertory work, Itch Jonathan Dove's latest full-length chamber opera with a libretto by Alasdair Middleton for eight singers and an orchestra of 12-players is a science-fuelled thriller for a family audience. Commissioned by James Clutton for Opera Holland Park with support from Canadian Opera Company this new production premiered on 22 July 2023 was directed by Stephen Barlow, designed by Frankie Bradshaw and conducted by Jessica Cottis. Adapted from Simon Mayo's best-selling novels, Itch and Itch Rocks the story follows 14-year-old element-hunter protagonist Itch as he discovers a new element from the depths of the earth which has the power to change the world ' an exciting, moving, relevant new opera – an undoubted hit.' Stephen Pritchard, The Observer.
A Room of One's Own
Outi Tarkianen/Francis Hüsers and Virginia Woolf 
Debut opera by Outi Tarkianen with German librettist Francis Hüsers is based on Virginia Woolf's seminal 1928 essay of the same title. Like Woolf's work, the opera focuses on the conditions necessary for creating art and why "from one century to another, women merely flit as shadows across the stage in the arts and history." Among other thought experiments, Tarkianen and Hüsers poignantly portray the imagined character of Judith Shakespeare, a woman with similar theatrical ambitions as her brother William Shakespeare. Tarkianen's colorful orchestral writing supports the onstage action and helps lead the opera into a hopeful conclusion—one further underscored by the artistic success of its female creative team. Commissioned and premiered by Theater Hagen in 2022, A Room of One's Own will be re-mounted at Savonlinna Opera Festival in Tarkianen's native Finland in July 2023. 
Die Kinder des Sultans
Avner Dorman/Ingeborg von Zadow 
Die Kinder des Sultans ("The Sultan's Children") is a children's opera by Avner Dorman and Ingeborg von Zadow that draws on fairytale tropes to tell the story of a multicultural family and the magical adventures of twins Fadeya and Taseh. Commissioned by Deutsche Oper am Rhein, Oper Bonn, and Theater Dortmund, the work premiered in 2022 to great acclaim from its young audiences; Ursula Hartlapp-Lindemeyer (OpernMagazin.de) notes that the premiere school performance for 800 students "ended with thunderous applause, shrill screams of enthusiasm, and calls for an encore." Originally performed in German, Die Kinder des Sultans is also available in English translation. 
El último sueño de Frida y Diego
Gabriela Lena Frank/Nilo Cruz 
Sung in Spanish, Gabriela Lena Frank and Nilo Cruz's El ultimo sueño de Frida y Diego ("The Last Dream of Frida and Diego") is a fantastic depiction of an imagined moment between two towering Mexican artists: Frida Kahlo and Diego Rivera. Set during el Día de los Muertos (the Day of the Dead), Cruz's libretto envisions the deceased Kahlo being asked to briefly return to earth to help the ailing Rivera make his own journey to the afterlife. Above all, though, it is the chance to see colors and paint once more that moves Kahlo to return to the world, and it is the colors of Frank's setting of Cruz's warm and loving text that has enchanted listeners as Frank's debut opera score "shuttles eloquently between the worlds" (Heidi Waleson, Wall Street Journal). Commissioned by San Diego Opera, San Francisco Opera, and Fort Worth Opera and premiered in 2022, El último sueño will return to stages in 2023 and 2024 with performances by San Francisco Opera (June 2023), LA Opera (November-December 2023), and Opera Omaha (May 2024). 
Oryx and Crake
Søren Nils Eichberg/Hannah Dübgen, based on a novel by Margaret Atwood 
Canadian author Margaret Atwood is widely considered one of the most influential writers of science and speculative fiction, and her novel Oryx and Crake is an incisive post-apocalyptic tale of a world that was formerly dominated by powerful multinational corporations hidden inside walled compounds. Commissioned by Das Hessisches Staatstheater Wiesbaden and premiered in February-April 2023, Eichberg and Dübgen's operatic treatment tells the story of the protagonist Snowman's relationship with the titular Oryx and Crake through a series of flashbacks. Eichberg's score draws on a wide array of sonic resources, using electronics and rock-inspired timbres, leitmotifs and moments of sweet song to depict both the devastation and beauty of Snowman's world.  
The Listeners
Missy Mazzoli/Royce Vavrek, based on a story by Jordan Tannahill 
Co-commissioned by Opera Philadelphia, Norwegian National Opera, and Lyric Opera of Chicago, The Listeners is Mazzoli and Vavrek's fourth operatic work together as a creative team. It focuses on the "hum," a mysterious and omnipresent environmental noise that only a select few people—"The Listeners"—can hear. The skepticism of their communities makes The Listeners easy targets for "dazzling and predatory" leaders; as Eystein Sandvik (NRK.no) writes, the opera is above all "a story about vulnerable people's struggle to cope with life, and how vulnerable we are to manipulation when the foundations of our lives collapse." The Listeners premiered at Norwegian National Opera in September 2022 in a production directed by Lileana Blain-Cruz, which comes to Philadelphia in Fall 2024 for its US premiere.  
Three Lunar Seas
Josephine Stephenson/Ben Osborn 
Commissioned by Opéra d'Avignon and premiered on May 5-7, 2023, Three Lunar Seas tells interconnected stories inspired by the lunar "seas": the Sea of Fertility, Sea of Tranquility, and Sea of Serenity. Addressing contemporary issues ranging from our responsibility for the climate to the impact of disease on our relationships, Three Lunar Seas features Stephenson's characteristically "bewitching combination of dissonance and sweet-toned cantabile" (Bachtrack).  
RECENT AND UPCOMING NEW PRODUCTIONS 
Blue
Jeanine Tesori/Tazewell Thompson 
Awarded the Music Critics Association of North America's 2020 prize for best new opera, Blue marked a watershed in contemporary operatic engagement with race. After a joyful opening, tragedy soon strikes when the protagonists' teenage son is killed by a white police officer. Thompson's libretto is "eviscerating in its fury and grief […] yet it's equally, painfully, full of love and tenderness" (Steph Power, BBC Music Magazine). Its depictions of the communities (the mother's warm and funny girlfriends, the father's police colleagues, the son's mourners) that rally round the couple in both their moments of delight and despair is particularly moving. Tesori portrays all these voices with sympathy and a wide musical palette, drawing on allusions to gospel, blues, and jazz. April-May 2023 saw a new production of Blue by English National Opera under the stage direction of Tinuke Craig, and the original production with Thompson as director will be also remounted by Dutch National Opera in November 2023. 
Breaking the Waves
Missy Mazzoli/Royce Vavrek, based on a film by Lars von Trier 
Breaking the Waves is a complex psychological drama set in the Scottish Highlands and centered on Bess, a religious young woman who falls deeply in love with an oil rig worker named Jan. When Jan is paralyzed in an accident, his desires and Bess's obedient love collide to lead Bess down a path that leaves her isolated and abused by her uncompromising community. Both Vavrek and Mazzoli clearly sympathize deeply with Bess's vulnerability and devotion; Vavrek writes that he has "been haunted by the story since first seeing Lars von Trier's film in 1997," and Mazzoli that she has "never had a story sing to her like that of Bess McNeill's." Mazzoli and Vavrek's setting of Bess's story has clearly sung to others, as two runs of Breaking the Waves open in May 2023: a new production at Musiktheater Bremerhaven with director Toni Burkhardt and a revival of director Tom Morris' production with Opéra Comique in Paris. 
Florencia en el Amazonas
Daniel Catán/Marcela Fuentes-Berain 
So much opera is steeped in tragedy, from the earliest explorations of the form to many of the works discussed here. It feels heartening, then, that while Daniel Catán and Marcela Fuentes-Berain's Florencia en el Amazonas ("Florencia in the Amazon") contains its share of loss, its central theme is the redemptive power of love. Set aboard the steamship El Dorado on a voyage down the Amazon for the opera diva Florencia Grimaldi's long-awaited homecoming concert, Florencia's plot and atmosphere are inspired by the magical realism of Gabriel García Márquez. Catán's gorgeous vocal writing and lush, Debussian orchestrations evocatively portray the many loves—emerging, rekindling, and remembered—of Florencia's cast. As the first Spanish-language opera commissioned by a major US opera company and a work that "fulfills one of opera's highest duties: to leave the listener's senses swooning" (James Jorden, New York Observer), Florencia richly deserves the new production it will receive at The Metropolitan Opera in December 2023 under the baton of music director Yannick Nézet-Séguin, with Mary Zimmerman stage directing and Ailyn Perez starring in the title role. 
Hadrian
Rufus Wainwright/Daniel MacIvor 
Rufus Wainwright and Daniel MacIvor's Hadrian is set late in the Roman emperor Hadrian's rule, when he is devastated by the loss of his lover Antinous. In MacIvor's and Wainwright's imagination of the history, Hadrian is visited by the ghosts of former advisors, who promise to show him the true circumstances of Antinous' death in exchange for Hadrian denouncing the growing specter of Christianity. The result is an opera that "mixes elements of intimacy, grandeur, political intrigue, and the supernatural" (Anthony Tommasini, The New York Times) and which "bubbles with eclectic sounds and stunning, pared-down moments of chamber music" (Globe and Mail). Originally premiered in 2018 by the commissioning Canadian Opera Company, Hadrian received a new, semi-staged production accompanied by images by Robert Mapplethorpe at the Teatro Real de Madrid in July 2022.    
Innocence
Kaija Saariaho/Sofi Oksanen (original Finnish libretto) and Aleksi Barrière (multilingual libretto) 
The fifth opera by Kaija Saariaho finds her at the height of her musical and dramatic powers. Set in the 2000s-2010s in Helsinki, Innocence deals with the aftermath of a shooting at an international school. Ten years after the murders, the shooter's brother is to be married. As the wedding festivities unfold, the trauma of the past interrupts. Each of the school students speaks and/or sings in their own language, with especially moving lines delivered by the murdered Markéta, cast as a folk singer performing in Czech. Guy Damann (The Times Literary Supplement) writes that "Saariaho and Oksanen have a masterpiece on their hands […] the psychology and phenomenology of the opera feel so acutely contemporary that the listener becomes inexorably drawn into and implicated in the world of the tragedy." The original production is currently available for streaming online, and new productions open throughout 2023 and 2024 at the Royal Opera House (April-May 2023), Dutch National Opera (October 2023), and San Francisco Opera (June 2024). 
X: The Life and Times of Malcom X
Anthony Davis/Thulani Davis (with story by Christopher Davis) 
Written in 1986, X: The Life and Times of Malcolm X still feels profoundly and devastatingly contemporary in its investigation of racism in America. As Jeremy Eichler of the Boston Globe notes, "X feels all-too-relevant today—in its summoning of a painful national past, in its attention to structural racism built deeply into our society, and in its honoring of a single extraordinary life bent on challenging the status quo." Throughout the work, Anthony Davis deftly weaves nods to a wide range of American musics (swing, scat, modal jazz, hip-hop, and more) with his own distinctive voice to create a fast-paced, evocative series of vignettes covering Malcom X's childhood to his 1965 assassination. X will see its long-overdue debut at The Metropolitan Opera with staging by Tony-nominated director Robert O'Hara and a newly-revised score conducted by Kazem Abdullah in November-December 2023. 


PREMIERE RECORDINGS 


Buddha Passion
Tan Dun/Tan Dun (with text by several Tang Dynasty authors) 
Buddha Passion by Tan Dun is the first "passion" written on a Buddhist rather than Christian narrative. To compose it, Tan Dun spent two years researching the musical history of the Mogao Caves and surrounding area, even recreating some of the instruments depicted in the caves' murals (which span 1000 years of Buddhist art). While Buddha Passion has thus far been performed as a concert work, its visual inspiration and multilayered storytelling call out for operatic staging. This year will see the world premiere recording released on Decca. 
The First Child
Donnacha Dennehy/Enda Walsh 
The last of a trio of operas by Donnacha Dennehy with acclaimed Irish playwright Enda Walsh, The First Child is a haunting exploration of the haze of new parenthood and the long-term effects of childhood bullying. Sara Keating of The Irish Times writes that "[i]n The First Child, the mundane is made macabre, the ordinary rendered aberrant, by a chilling collision of circumstance and time." Throughout the opera, Walsh's recurrent triptychs of simultaneously played scenes are supported by the fierce rhythmic energy, carefully crafted microtonal harmonies, and gorgeously layered children's choir of Dennehy's score. The First Child premiered in 2021 as a commission by Irish National Opera and Landmark Productions and now will be available outside the opera house for the first time with the release of the premiere recording on Signum Classics this fall. 
The Lord of Cries
John Corigliano/Mark Adamo 
The Lord of Cries, first opera by John Corigliano since his collaboration with William M. Hoffman on The Ghosts of Versailles (1991), explores our deepest desires and what librettist Mark Adamo calls our "need to blame and attack others for what we can neither resist, nor accept, in ourselves." To do this, Adamo combined The Bacchae of Euripides with Bram Stoker's Dracula to create a streamlined tale of horror in which duty battles yearning in each character's heart. Corigliano's score effectively conveys the tense atmosphere of Dracula preying on London's women, and his quartet writing for the Dionysus/Dracula character (premiered by countertenor Anthony Roth Costanzo) and the "three strange sisters" that accompany him is particularly otherworldly. Originally commissioned by Santa Fe Opera, The Lord of Cries will be released as a world premiere recording featuring Odyssey Opera with Roth Costanzo in July 2023. 
For more information, please contact your local Wise Music Promotion Team. See Contact Us.


(May 2023)