'Composing Myself' podcast by Wise Music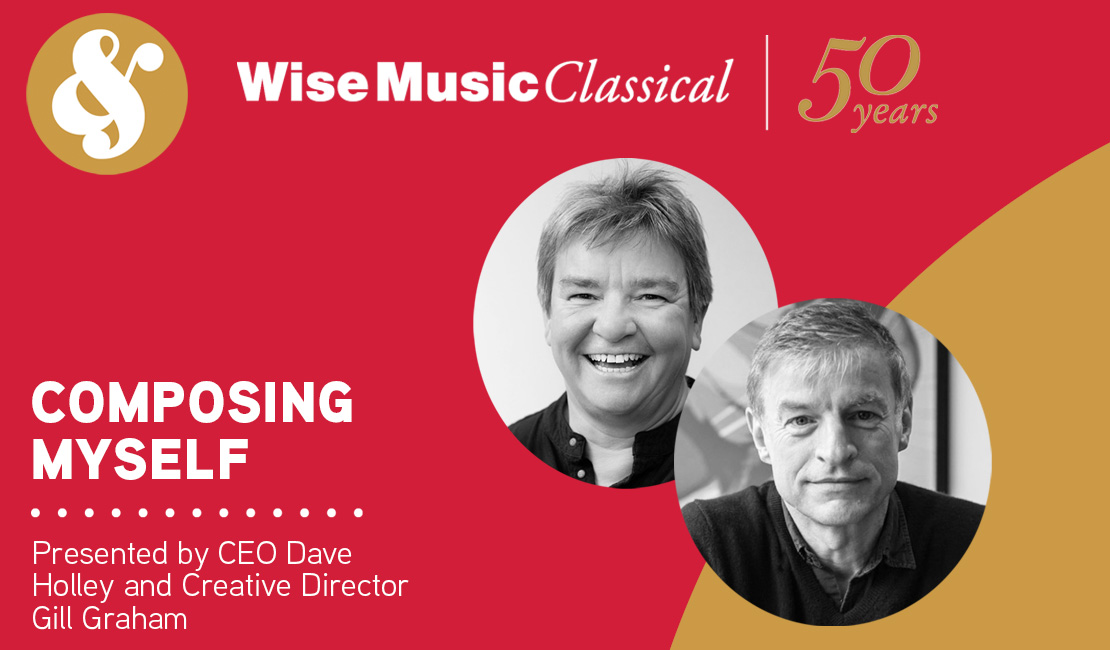 Composing Myself  is an official Wise Music Group podcast series celebrating Wise Music's 50th anniversary, presented by CEO Dave Holley and Creative Director Gill Graham. Over the course of this series, they talk to various Wise Music published composers around the world about their lives in and out of music along with excerpts of the composers works included in the podcasts.
Ep. 1 The Daydream Club

In this inaugural episode of Composing Myself, hosts Dave Holley and Gill Graham speak to genre-bending UK husband-and-wife duo and Wise Music writers The Daydream Club. In this episode they discuss the myriad joys of studio life, the difficulty of picking the greatest Björk and Radiohead songs, LIPA life, the intricacies of playlist curation, the hidden mystery of a simple coin toss and Dave's lovingly-crafted Beatle Premier League and they introduce The Daydream Club's very own Wise Music podcast and a complementary series to Composing Myself, Wise Choice! Listen to Wise Choice podcast.
Ep. 2 Nico Muhly
Dave Holley and Gill Graham speak to Wise Music composer Nico Muhly, from Paris where Muhly  runs-through his studio setup in New York and his trusty mobile, diligent daily writing discipline ("I'm scared that if I didn't write every day I'd forget how to do it!"), the all-important routine at home in NYC, coping with lockdown and the works that it scuppered, composing for Pachinko, what it's like to live across the street from one of Central London's most notorious nightclubs, and an overview of the best things to eat in the French capital.
Ep. 3 Rachel Portman
An interview with Academy Award-winning film composer Rachel Portman. Spanning Portman's formative influences, a first job via the great David Puttnam, coping with writer's block, composing for The Cider House Rules and The Little Prince and the differences between writing for film and opera, to her passion for raising awareness of environmental issues and the climate emergency, this fascinating conversation is a riveting must-listen for anyone with an interest in classical music and the myriad nuances and quirks of the creative process.
Ep. 4 Rod Argent
Hosts Dave Holley and Gill Graham speak to Rod Argent, mastermind of the group The Zombies and Wise Music composer in his own right. In this episode they discuss the 'secret jazz' element of She's Not There, and the Dick James offer that led to the timeless classic's creation, ruminations on what it felt like hearing Bach ("I just melted… this is what music should be!") and Elvis for the first time, the definitive conclusion on why classical music is "completely stimulating and exciting", being the next band in after the Beatles finished Sgt Pepper at Abbey Road, plus learning to sight read, working with Andrew Lloyd Webber, an explanation on why the Zombies decided on that name!
Ep. 5 Josephine Stephenson
A conversation with French-British composer Josephine Stephenson where they discuss the works of Mahler, how to really know when something is finished, collaborations with Damon Albarn, Arctic Monkeys and Radiohead and redressing the balance in COVID.
Ep. 6 Joby Talbot
Talbot is the only living composer to have written the music for three full-length ballets for The Royal Ballet in London. In this sixth episode of Composing Myself Dave Holley and Gill Graham speak with Talbot about his "horrible" jobs before he became a composer (Night shift at the local mortuary! Laundry at a mental institution!), working with Nigel Godrich and their close professional bond, the key differences between composing for animations versus live action projects, the culinary genesis of the Like Water For Chocolate ballet score, and the upside-down sensibility of composing for choreography - "you're trying to give a platform for the choreographer and the dancers to do their thing, without knowing what that thing is".
Ep. 7 Anna Thorvaldsdottir
Icelandic composer Anna Thorvaldsdottir calls in from Reykjavik for an illuminating conversation spanning her raison d'être and innate need to create music, the influence of Icelandic culture and geography on her compositions, the crucial importance of communication between composer and players, and the "magic in the dimensions" unique to an orchestra of 80-100 people.
Ep. 8 Missy Mazzoli
American composer Missy Mazzoli joins the podcast from her home in New York. In this episode they discuss Missy's childhood obsession with Beethoven and learning to play on a piano bought in a flea market, how writing made her feel like she was "putting the world in order", getting stuck in to the Pennsylvania Riot Grrrl scene as a teenager, her long-standing collaboration with librettist Royce Vavrek, and how the COVID-19 pandemic impacted the creation of her most recent opera The Listeners.
Ep. 9 Ólafur Arnalds
Icelandic composer and multi-instrumentalist Ólafur Arnalds in conversation. Subjects broached include the minutiae on how phonographs work and Ólafur's formative teenage hardcore punk band Cone Heads, the long and winding road from hardcore bands to composing the Broadchurch score, and the development and creation of his ingenious, ground-breaking musical software Stratus.
Ep. 10 John Corigliano
Listen to a wonderful journey of memories, anecdotes and musings with veteran composer John Corigliano. The conversation covers John's formative years growing up in a musical family and how the lingering nerves he reserved for his father affected his professional journey; the impact of the early Disney oeuvre on his creative spark; winning Grammys, Oscars and a Pulitzer Prize - and the award he's most proud of; the harrowing story behind Symphony No. 1; how a personal black spot with the catalogue of Bob Dylan led to a Grammy-winning setting of Dylan's poetry; and the painstaking creation of The Ghosts of Versailles.
Ep. 11 Hania Rani

In this episode we speak with Polish composer Hania learn about her early love for Beethoven's sonatas and the struggle of having to choose between Britney and J-Lo, her accidental, into-the-frying-pan introduction to singing, her work on the posthumous music of Polish rock musician and composer Grzegorz Ciechowski, and why it's not music but "all the other things" that inspire her.
Ep. 12 Outi Tarkiainen

Wise Music Group CEO Dave Holley and Creative Director Gill Graham venture - digitally - to the wild hinterlands of northern Finland for a highly illuminating conversation with Outi Tarkiainen. Winding through subjects as diverse as motherhood, how synesthesia affects and influences the compositional process, foraying into the world of jazz, and breaking down long-standing taboos in classical music.
Ep. 13 Bryce Dessner
To the south of France in the 13th episode of Composing Myself, to chat to American composer, performer and founding member of The National Bryce Dessner. Subjects include learning how to play music at a school with no music department; why taking time off is as critical for creativity as the creative process itself; the fascinating genesis of Mari, conceptualised and created during the COVID-19 pandemic; living with another singer-songwriter, his wife Mina Tindle and how they leverage their co-existence to influence and hone their works; and the inspiration behind The National's latest album The First Two Pages of Frankenstein.
Ep. 14 Cheryl Frances-Hoad
British composer Cheryl Frances-Hoad speaks with Composing Myself hosts Wise Music CEO and Creative Director Dave Holley and Gill Graham about her fascinating life in and out of music. Starting with her formative years leading to her getting a place as a cellist at the Yehudi Menuhin School, Cheryl talks about being a shy child and how finding composition at an early age gave her a voice she might otherwise not have discovered. We also learn about her work with young performers and in particular the I Am You, Brave and Strong project, built to ensure young creatives of all persuasions and skill levels "feel part of that bigger thing, making that great sound".
Ep. 15 Paul Mealor
Welsh composer Paul Mealor is the guest on episode 15 in which he and podcast hosts discuss a childhood discovery of Iron Maiden and why boys get into heavy metal; the "visualness" of Debussy and Ravel; the benefits of daily composing in fending off writer's block; how his Military Wives Choir number one single changed the rules of the UK charts and composing for the Royal Family.
Ep. 16 Judith Weir

Master of The King's Music (and former Master of The Queen's Music) Judith Weir talks to Wise Music Group CEO Dave Holley and Creative Director Gill Graham about an illustrious life of creative adventure, from a fortuitous mentorship by Sir John Tavener to being appointed to a Royal position by Queen Elizabeth II. Stops along the way include the Battle of Stamford Bridge ("an iconic moment in English history"); how deadlines – "the composer's curse" – are actually a big help; Judith's inspiring work in the broader community; why singers are "the most amazing people in our profession", and the myriad joys of blogging. A life less ordinary reflected on by a wonderfully eloquent composer.
Ep. 17 Helen Grime
Scottish composer Helen Grime speaks to Wise Music Group CEO Dave Holley and Creative Director Gill Graham about her life in and out of music. Topics include Helen's formative years studying the oboe, why a first rehearsal is more nerve-wracking than a premiere, experiences at Tanglewood - the summer home of the Boston Symphony Orchestra, why passing knowledge forward through teaching and learning is so important, and the nature of inspiration - "sometimes I seek it, and sometimes I really need it"
Ep. 18 Tarik O'Regan
British-American composer and force of nature Tarik O'Regan discusses John-Paul Jones and the aborted arrow dance; a brief stint in banking; long childhood car journeys listening to Led Zeppelin, Madonna and a selection of local Algerian oud players; and the not-entirely-pressure-free task of composing for none other than the coronation of King Charles III, plus much more.
Ep. 19 Dickson Mbi
Cameroon-born, London-raised choreographer and composer Dickson Mbi is the guest on this Composing Myself episode. Hot topics discussed include how Youssou N'Dour and Neneh Cherry's '7 seconds' "was the song that smashed it for me" and pulled a young Dickson away from football; getting into dance "because of girls"; being clandestinely enrolled in dance school by a friend's dance tutor who saw limitless untapped potential; the importance of late-70s and early-80s funk - Earth, Wind & Fire, Cameo etc ; a life-changing return to Cameroon and the village where his parents grew up; plus much, much more.
Ep. 20 Maja S. K. Ratkje
Norwegian vocalist and composer Maja S. K. Ratkje joins Wise Music Group CEO Dave Holley and Creative Director Gill Graham in this latest episode of Composing Myself, beaming in from her basement home studio on the fringes of Oslo. Maja talks about how as a child her sound world of birdsong and languages influenced her music, studying at the Norwegian Academy of Music, how her experimental improvisational work draws a parallel with extreme sports, and her environmental protest sound art project 'Desibel' - the world's largest mobile horn loudspeaker system.
Ep. 21 Richard Rudolph
We travel to early-morning Santa Monica in this latest edition of Composing Myself, to speak with multi-million-selling songwriter, record producer, music supervisor and label executive Richard Rudolph. In this fascinating hour-long chat, we take a journey through Richard's illustrious, six-decade career - including a stop, of course, at a riveting retrospective on jointly producing Minnie Riperton - "one of the great loves of my life" - alongside Stevie Wonder.
There is another official podcast series from Wise Music Group that delves into the vast catalogue of incredible songs and artists that are part of the Wise Music family. The show is hosted by Wise Music songwriting and composing team Adam and Paula Pickering aka The Daydream Club. They asked the Wise Music teams from all over the world to choose their absolute favourite songs from the Wise Music catalogue (their Wise Choice). From this list Adam & Paula look into the history surrounding the songs and where the story leads them with connections to other notable versions, covers and samples with new episodes every other Wednesday.


(Dec 2022)