Judith Weir at 70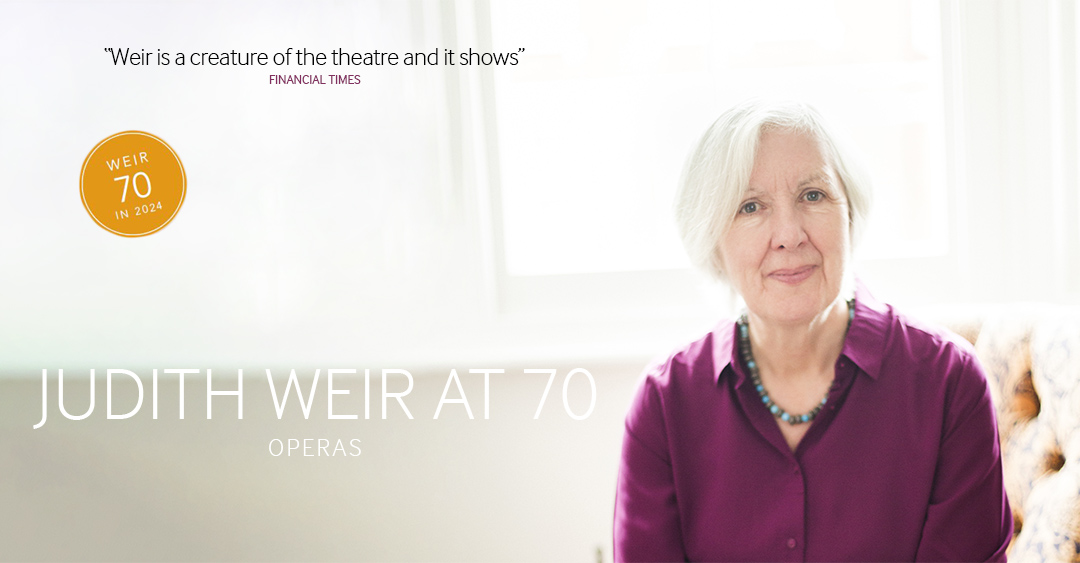 Celebrating her 70th birthday in 2024, Judith Weir is a composer whose music reaches out to the listener with a distinctive and persuasive voice. Her operas, composed over the course of more than 30 years, lie at the heart of her output. They draw on folk tales, myth and legend from diverse cultures across the ages, reshaped with the combination of wit and ingenuity that has become Weir's hallmark.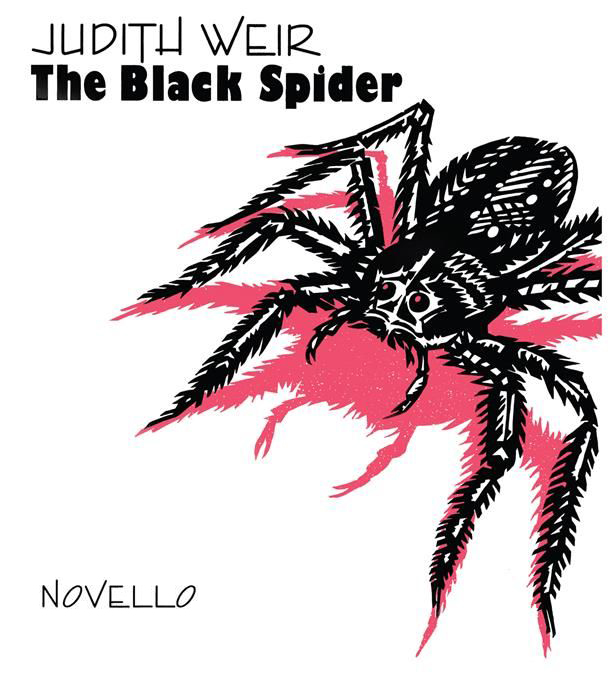 Drama and storytelling have inspired the composer's work from the very beginning, whether in King Harald's Saga, in which a solo soprano plays eight different roles in the space of just ten minutes, or The Consolations of Scholarship for soprano and ensemble, an early engagement with Chinese opera. Her first fully-staged piece, The Black Spider, was born out of her work with Kent Opera in the early 1980s. Composed for young performers of all abilities, the piece is intended as an introduction to opera and elements such as the tragic heroine or chorus of goblins consciously allude to the history of the artform.
Premiered in 1987, the three-act A Night at the Chinese Opera builds on Weir's fascination with the era of Marco Polo and Kublai Khan. At its centre is a re-telling of a 13th-century tale, The Chao Family Orphan (first explored in The Consolations of Scholarship), which serves as an opera-within-an-opera in this intricately-constructed tale.

For her next opera, The Vanishing Bridegroom (1990), the composer looked closer to home for her inspiration, selecting three Scottish folk tales from the Hebrides collected in a 19th century anthology. Although unrelated, each story contains a disappearance, leaving the audience to ponder the parallels and relationships between the three acts. The Vanishing Bridegroom is also notable for the prominent role of the chorus, capturing the close-knit nature of the rural communities.
'…the piece sparkles with a magical, luminous charm' – The Guardian


Isolation plays an important part in the story of Blond Eckbert, which was commissioned by English National Opera in 1993 and is based on the novella by Ludwig Tieck. The opera is set in a remote cabin in the Harz Mountains and combines psychological drama with fairy tale fantasy, as a story told to while away the time reveals an unbearable truth.

The role of fate in everyday life is the theme of Miss Fortune, Weir's most recent opera, premiered in 2011. Its central character is Tina, who sees her wealth disappear only to be regained and her fortunes restored. The opera's contemporary setting belies its origins in a Sicilian folk tale.
Chamber operas

In 2006 a reduced version of Blond Eckbert (Pocket Version) was premiered to considerable acclaim and has subsequently been performed in productions around Europe. The Vanishing Bridegroom is available in a version with ensemble accompaniment whilst retaining the original cast. Two operas originally written for television – Armida and Scipio's Dream – have also been performed on stage.
Listen to the Judith Weir Opera Playlist
About Judith Weir

Judith Weir was born into a Scottish family in 1954, but grew up near London. She was an oboe player, performing with the National Youth Orchestra of Great Britain, and studied composition with John Tavener during her schooldays. She went on to Cambridge University, where her composition teacher was Robin Holloway; and in 1975 attended summer school at Tanglewood, where she worked with Gunther Schuller. After this she spent several years working in schools and adult education in rural southern England; followed by a period based in Scotland, teaching at Glasgow University and the Royal Conservatoire of Scotland.
During this time she began to write a series of operas (including King Harald's Saga, The Black Spider, A Night at the Chinese Opera, The Vanishing Bridegroom and Blond Eckbert) which have subsequently received many performances in the UK, Germany, Austria, the Netherlands, Belgium and the USA. The most recent opera is Miss Fortune, premiered at Bregenz in 2011, and then staged at the Royal Opera House Covent Garden in 2012. In collaboration with director Margaret Williams, Weir has created several opera films, including Scipio's Dream and Armida.
As resident composer with the City of Birmingham Symphony Orchestra in the 1990s, she wrote several works for orchestra and chorus (including Forest, Storm and We are Shadows) which were premiered by the orchestra's then Music Director, Simon Rattle. She has been commissioned by the Boston Symphony Orchestra (Music Untangled and Natural History) the Minnesota Orchestra (The Welcome Arrival of Rain) and the London Sinfonietta (Tiger under the Table); and has written concert works for some notable singers, including Jane Manning, Jessye Norman, Dawn Upshaw, Alice Coote, Ailish Tynan and Ruby Hughes. She has composed Concertos for Piano (William Howard) and Oboe (Celia Craig).
In recent years, Judith Weir has considerably expanded her choral catalogue, with regular performance by choirs worldwide of music such as her Christmas carol Illuminare, Jerusalem written for Stephen Cleobury and the choir of King's College Cambridge. As associate composer with the BBC Singers (2015-19) she completed two oratorios; In the Land of Uz, about the prophet Job; and blue hills beyond blue hills, to Zen-influenced verse by the Scottish poet Alan Spence.
Now based in London, she has had a long association with Spitalfields Music Festival; and has taught as a visiting professor at Princeton, Harvard and Cardiff universities. Honours for her work include the Critics' Circle, South Bank Show, Ivor Novello and Elise L Stoeger awards, a CBE and The Queen's Medal for Music.
In July 2014 Judith Weir was appointed to the 395-year old royal post of Master of the Queen's Music, in succession to Sir Peter Maxwell Davies. Amongst her priorities in this role are the support of school music teachers, of amateur orchestras and choirs, and of rural festivals. In this role she has written music for national and royal occasions, including the Queen's 90th birthday celebrations and the UK's official commemoration of the 1918 Armistice. She has also created new music for many community groups and schools, including Burntwood School Wandsworth, Aberdeen Art Gallery, St Mary's Church Dover and Greenacre School, Barnsley.
Judith Weir's music has been widely recorded, particularly on the NMC and Delphian labels; and is published by Chester Music and Novello & Co.


Listen to the complete Judith Weir Playlist


(March 2021)