Opera for Socially Distanced Performance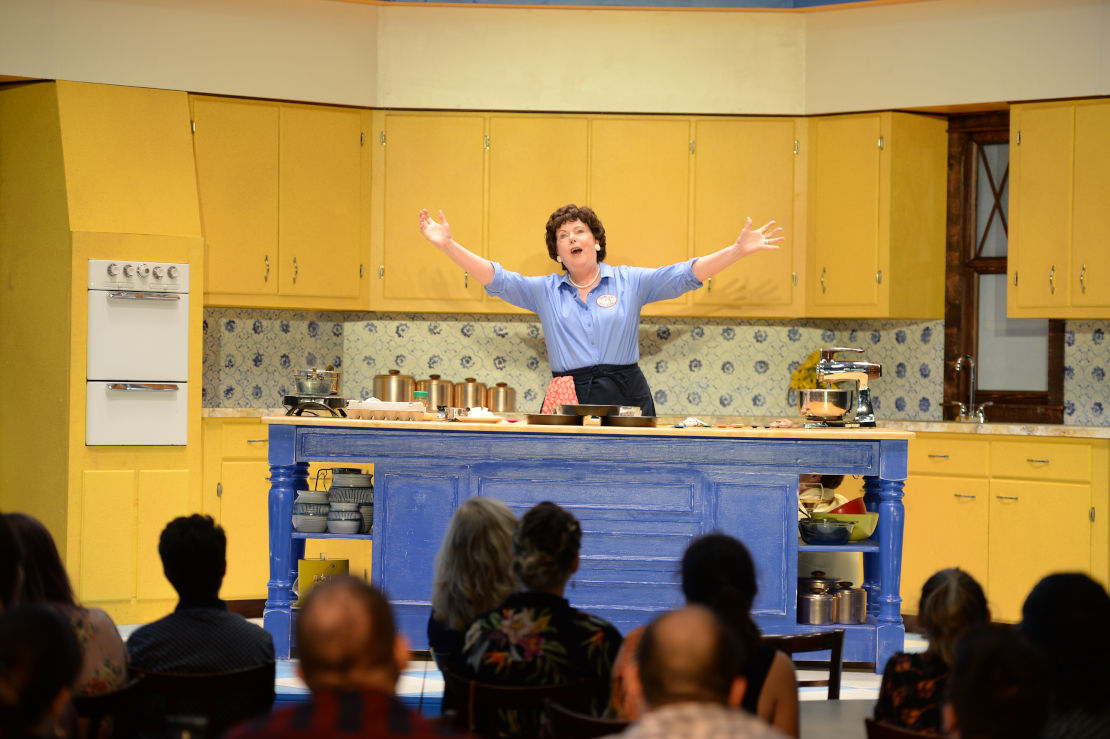 As opera companies explore new content for online venues and alternative spaces, Wise Music Classical is pleased to share a collection of dynamic dramatic works for small forces. Each piece calls for a small instrumental ensemble and one to six (or more) singers, omitting any works that require chorus. Dramatic song cycles with potential for staging have also been included.
With its wide variety of subject matter and diverse musical styles, we hope this collection will be both useful and inspiring in the unusual days ahead. The full list of over 60 works is available for download here and in the Catalogue section of our website.
Below, we invite you to explore 25 highlights from the collection. 
Monodrama
Bon Appétit! (1989) 18'
Lee Hoiby
Text by Julia Child, adapted by Mark Shulgasser
Mezzo-Soprano
fl.ob.cl.bn/hn/pf
A comic culinary extravaganza that taps the wit and antics of one of America's best-loved television personalities.
Listen on Spotify | Watch on YouTube
The Mocking-Bird (2000) 28'
Thea Musgrave
Libretto by the composer after Ambrose Bierce
Baritone
1(pic).0.1.0/0000/perc/pf/str(1.0.0.1.0)
A soldier in the American Civil War, Sergeant Grayrock fears he is lost behind enemy lines. The mocking-bird reminds him of days past. 
Hearing Voices (chamber version) (2015) 1 hr
Jocelyn Pook
Libretto by the composer
Mezzo-Soprano
cl/vn.va.vc + backing track
Hearing Voices explores experiences of mental illness in women of different generations, each portrayed in turn by the solo singer.
Penelope (2019) 38'
André Previn
Libretto by Tom Stoppard after Homer
Soprano
pf/2vn.va.vc
Penelope, wife of Odysseus, tells Homer's story from her point of view, reflecting the depth of her wisdom and experience.
Revelations (This Early Song) (2017) 55'
Maja S. K. Ratkje
Text by Aasne Linnestå
Mezzo-Soprano
2vn.va.vc
A collection of 23 words: cognates that connect all the languages of the Eurasian continent. Ancient language is woven with new sounds and poems to give the words colors of our own time.
Two Voices
The Hunger (concert version) (2016) 70'
Donnacha Dennehy
Text after Asenath Nicholson, Anon.
S, sean nós singer
1(pic,afl).1(ca).2(bcl).1/1110/2perc/pf/str(1.1.1.1.1 [or multiples])
The Hunger tells the story of the Great Irish Famine of 1845-52 through first-hand accounts by the American non-conformist and observer Asenath Nicholson.
Gentleman's Island (an opera) (1958) 30'
Joseph Horovitz
Libretto by Gordon Snell, after W.S Gilbert
T, Bar
1(pic)111/1000/pf/timp.perc/str(1.1.1.1.1) [or] pf
After being shipwrecked, two English 'gentlemen' reach the same desert island, but since they have not been introduced, they ought not to speak to each other. To share food, they agree that formal etiquette has been satisfied and communication and cooperation is permissible.
The Telephone or l'Amour a Trois (1945) 20'
Gian Carlo Menotti
Libretto by the composer
S, Bar
2pf
Ben wants to propose to his friend Lucy, but is frustrated by the constant interruption of her telephone.
The Silver River (1997) 1 hr 8'
Bright Sheng
Libretto by David Henry Hwang
2 Bar, Actress, 3 dancers
fl(pic,afl).cl(bcl,perc)/pipa/perc/vn(perc).vc(perc)
An ill-fated love between a heavenly being and a mortal leads to the creation of Night and Day. This timeless fable blends together elements of both Western and Chinese opera.
Anti-World (1972) 20'
Nicola LeFanu
Baritone, Soprano, Dancer
afl.cl/perc
Anti-World is about barriers – the invisible, irrational barriers which we imagine between people; and about freedom – or the way we restrict freedom in order to 'control' each other. The original impulse came from Russian samizdat writings. The piece evolves from humour to seriousness, as the dancer's part evolves from mime to dance, the musicians' parts from semi-determinate to fully notated music.
Three Voices
Zolle (2005) 55'
Du Yun
Libretto by the composer
Female Voice, T, Narr
fl.cl/perc/str(1.0.1.1.0) + recorded ensemble, electronics
A dead woman wanders through the shadowy space between memory and reality, tracing the lines of her identity through the land she once walked: an immigrant in death as in life.
The Man Who Mistook His Wife For A Hat (1986) 1 hr 10'
Michael Nyman
Libretto by Christopher Rawlence
S, T, Bar
hp.pf/2vn.va.2vc
An investigation into the world of a man with visual agnosia, based on the famous case study by Oliver Sacks.
Peony Pavilion (1998) 1 hr 50'
Tan Dun
Text from Tang Xianzu, translated by Cyril Birch
S, T, Chinese Opera singer
xun/midi horn/perc.Chinese perc/pipa + keyboard sampler
Tan Dun's Peony Pavilion is a renewed and revived version of a masterpiece of traditional Chinese Kunqu opera. This "modern improvisation on old materials" is a drama of love and death, reality and illusion.
Four Voices
In the Penal Colony (chamber version) (2000) 1 hr 20'
Philip Glass
Libretto by Rudolph Wurlitzer
T, Bar, 2 actors
str(1.1.1.1.1)
Though it seems to deal primarily with the topic of capital punishment, this allegory based on Kafka's short story explores larger issues of humanism, idealism, and transfiguration. 
Full Moon in March (1977) 33'
John Harbison
Libretto by the composer after the play by W.B. Yeats
S, Mz, T, Bar
fl.ob.bcl/perc/pf(prpf)/vn.va.vc
To Yeats, the full moon in March represented a moment of mythic truth. In this emblematic ritual-opera, the characters come together at a moment when opposites naturally unite.
UR_(2015) 1 hr 15'
Anna Thorvaldsdottir
Libretto by the composer
Mz, Bar, Narr, Voice
bfl.cl(bcl)/hn.tbn/perc/pf/str(1.0.1.1.1)
In UR_, one narrative looks backward and another looks forward. The first, which is the primary focus, is the story of the human being struggling to find a way back to the UR_ ; the other is the story of how we got here, so far removed from the UR_.
Blond Eckbert (pocket version) (2006) 1 hr
Judith Weir
Libretto after Ludwig Tieck
S, Mz, T, Bar
ob.cl(bcl)/2hn/hp/str(1.1.0.2.0)
Eckbert and his wife Berthe live in seclusion in the Harz Moutains. One stormy night, Eckbert's friend Walther arrives and, to while away the time, Berthe tells him her life story. 
Five Voices
Avow (1999) 12'
Mark Adamo
Libretto by the composer
S, Mz, T, B-bar, B
pf
A kind of "sequel" to Samuel Barber's A Hand of Bridge, Avow explores the varied emotional experiences on a wedding morning: an ambivalent bride, her avid mother, the haunted groom, the glib, daft celebrant, and the ghost of the groom's father.
La Hija de Rappaccini (Rappaccini's Daughter) (chamber version) (1983) 1 hr 45'
Daniel Catán
Libretto by Juan Tovar, after Octavio Paz and Nathaniel Hawthorne.
S, Mz, 2T, Bar + 3 offstage female voices
2perc/hp.2pf
La Hija de Rappaccini is a multi-layered story that deals not only with the struggle between good and evil, but with the blurry gray lines that are created when good and evil merge.
Six or More Voices
Crow and Weasel (1994) 1 hr 30'
John Luther Adams
Libretto by Jim Leonard
6 males, 4 females
picc(bcl)/4perc/hp.cel/str(1.1.1.1.1)
Set in the mythic past and inspired by the traditions of the North American Plains people, this fable of self-discovery follows Crow and Weasel as they face unfamiliar perils on a quest for knowledge and wisdom.
Tania (1992) 1 hr 30'
Anthony Davis
Libretto by Michael John La Chiusa
S, Mz, T, B + 2 males, 4 females
3ww.bn2/perc/pf/vn.vc.db
Loosely based on the kidnapping of Patricia Hearst in 1974 by the Symbionese Liberation Army, this opera examines the loss and destruction of an identity and the collapse of an established social structure.
Song from the Uproar: The Lives and Deaths of Isabelle Eberhardt (2012) 1 hr 15'
Missy Mazzoli
Libretto by Royce Vavrek
Mz + 5-voice ensemble (SSATB)
fl(pic).cl(bcl)/pf.egtr/db + electronics
Song from the Uproar uses text inspired by the writings of Isabelle Eberhardt. She describes the death of her family, the thrill of her arrival in Africa, her tentative joy at falling in love, the elation of self-discovery, and the mystery of death.
Dark Sisters (chamber version) (2016) 1 hr 30'
Nico Muhly
Libretto by Stephen Karam
5S, Mz, B
perc/2pf
Dark Sisters follows one woman's dangerous attempt to escape her life as a member of a polygamous religious sect.
For Family Audiences
Second Nature (2015) 1 hr
Matthew Aucoin
Libretto by the composer
S, 2Mz, T, Bar
cl/pf/vn
In a fictional future when humans have retreated from nature because of the deteriorating environment, two inquisitive and courageous youths decide to leave the safety of their artificial habitat and work to heal the planet.
Dr. Seuss's Gertrude McFuzz (1995) 16'
Dr. Seuss's Green Eggs and Ham (1992) 18'
Rob Kapilow
Based on Dr. Seuss
S, boy soprano
1(pic)0.2.1/1100/perc/pf/db
A pair of works based on the beloved children's books of the same names, which may be performed together or apart.
Monkey See, Monkey Do (1986) 35'
Robert Xavier Rodríguez
Libretto by Mary Duren
S, Mz, T, Bar, B
cl/tpt/perc/gtr.acn.pf/vn.vc
Monkey See, Monkey Do is based on a Mexican folk tale, which also inspired the beloved children's book Caps for Sale.
Dramatic Song Cycles
Mr. Tambourine Man: Seven Poems of Bob Dylan (2000) 37'
John Corigliano
Poems by Bob Dylan
Soprano
pf
In this song cycle, the composer does not reimagine Dylan's music, but instead treats the lyrics as the poems he found them to be, resulting in a wholly original musical setting.
Songs of Cifar and the Sweet Sea (vocal version) (2014) 30'
Gabriela Lena Frank
Poems by Pablo Antonio Cuadra
S, Bar
pf
Songs of Cifar and the Sweet Sea draws on poetry by the Nicaraguan poet Pablo Antonio Cuadra (1912-2002) and recounts the odyssey of a harp-playing mariner, Cifar, who travels the waters of Lake Nicaragua.
For more information, please contact your local Wise Music Promotion Team. See Contact Us.


(June 2020)