Julius Eastman
1940 - 1990
American
Biography
With the continued, international discovery and resurgence of Julius Eastman, the legacy of American music becomes more just and complete. The canon of American contemporary music cannot be considered complete without inclusion of Julius Eastman's compositions, which until recently have gone largely neglected and unpublished. Now that his work has found a home at G. Schirmer, we are eager to facilitate the continued international discovery of this American master.

If available, scores can be viewed on his work pages and on our OnDemand page. Materials will become available once readied for performance — please continue to check our site for updates. In the event performance material is unavailable, a license to prepare an arrangement may be obtained by contacting the Copyright Department of our US office. To create a transcription or arrangement, please complete this form to request a license. For inquiries related to other licensing requests, please see our licensing page. For general inquires, contact schirmer@schirmer.com

Julius Eastman (1940-1990) was a composer, conductor, singer, pianist, and choreographer. A singular figure in New York City's downtown scene of the 1970s and 80s, he also performed at Lincoln Center with Pierre Boulez and the New York Philharmonic, and recorded music by Arthur Russell, Morton Feldman, Peter Maxwell Davies, and Meredith Monk. "What I am trying to achieve is to be what I am to the fullest," he said in 1976. "Black to the fullest, a musician to the fullest, a homosexual to the fullest."

Despite his prominence in the artistic and musical community in New York, Eastman died in obscurity in a Buffalo, NY hospital. His death went unreported for eight months, until an obituary by Kyle Gann appeared in the Village Voice. Eastman left behind few scores and recordings, and his music lay dormant for decades until a three-CD set of his compositions titled Unjust Malaise was issued in 2005 by New World Records. In the years since, there has been a steady increase in attention paid to his music and life, punctuated by newly found recordings and manuscripts, worldwide performances and new arrangements of his surviving works, and newfound interest from choreographers, scholars, educators, and journalists. 'The brazen and brilliant music of Julius Eastman…commands attention: wild, grand, delirious, demonic, an uncontainable personality surging into sound', writes Alex Ross for The New Yorker.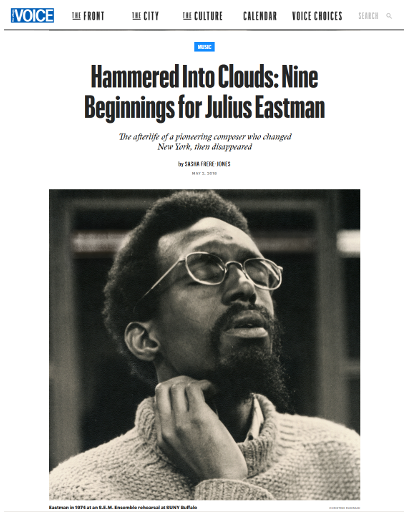 Read 'Hammered Into Clouds: Nine Beginnings for Julius Eastman' by Sasha Frere-Jones on villagevoice.com
News
Performances
Features
Wise Music Classical invites you to enjoy a selection of the best recordings of 2022, featuring composers from across our international family of publishing houses.

Celebrate Black History Month: explore a curated playlist from Wise Music Classical.

G. Schirmer & Associated Music Publishers is pleased to announce that a digital download of our critical edition to Charles Ives' Symphony No. 4 is now for sale by Classical On Demand.
Photos
Discography