The Music of Michael Nyman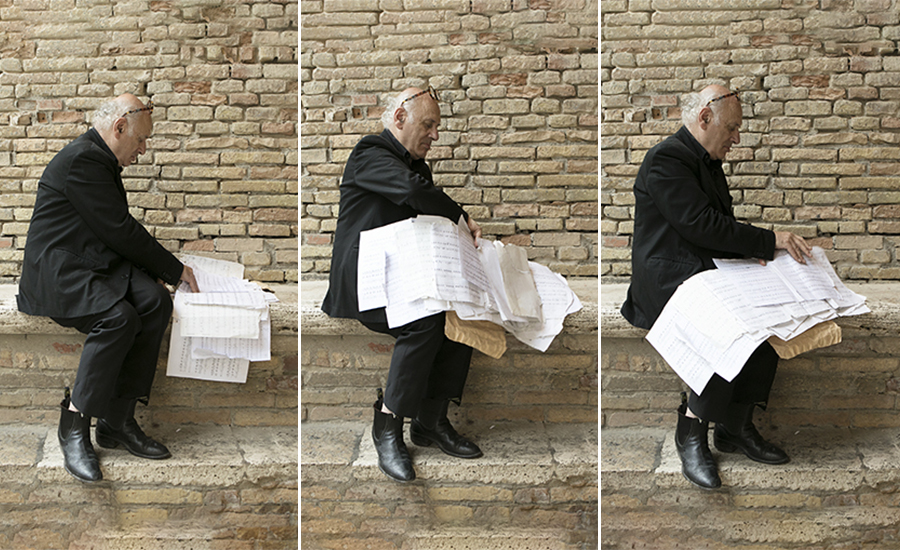 Described by composer Christopher Fox as a 'key figure in British musical life in the last thirty years', Michael Nyman's distinctive style is immediately recognisable and familiar to most listeners. Combining Western classical music with the high-octane energy and propulsion of rock and pulse-based minimalism, his music is appreciated for both its intellectual depth and ability to communicate directly with listeners from the get-go.
Having first made an impression with his dynamic and assertive scores for arthouse director Peter Greenaway in the 1980s, this was followed by the enormous impact and success of the soundtrack to The Piano (1993). Michael Nyman is thus seen by many as a composer for film and media. However, film music represents only the tip of the iceberg in a large and diverse output that encompasses operas and symphonies, song-cycles and string quartets.
In order to fully grasp Nyman's status as one of today's most important composers, it is necessary to undertake a journey beyond the familiar world of the film soundtracks down the less-travelled routes. The landmarks encountered along the way present more complex and challenging music when compared to the film scores, but nevertheless reveal important elements of the composer's musical character. Moving beyond the film music brings the listener closer to some of the core elements of Nyman's style, where more intellectual and cerebral qualities coexist alongside the physical and emotional.
In taking this journey, one is struck by the way in which Nyman takes material from all kinds of sources. Knowledge, research and information often provides Nyman with artistic sustenance, feeding his creative imagination. Whether relating to music itself or to subjects from other disciplines, Nyman's interests range from medieval poetry to neurology, from innovations in early Soviet film to artworks and artistic movements, from photography to football. His voracious appetite for knowledge – and the many means used to focus these ideas – yields a remarkably rich, complex and fertile body of work. History becomes a repository of facts, figures, objects and artefacts for Nyman – a treasure-trove that can be harvested for new information, then repurposed to the creative needs of an upcoming project.
---


Looking ahead to Michael Nyman's 80th birthday in 2024, Wise Music Classical have released a new interactive brochure bringing together featuring previously unseen photographs and links to the composer's key works to date.

Contact promotion@wisemusic.com if you are interested in programming works for the occasion. 
---
Where to start? Nyman's set of string quartets (which number seven to date) provide as good a pathway as any into a wonderfully vivid and colourful landscape. Composed in 1985, the powerful String Quartet No. 1 sets its medium in an almost symphonic context, imbuing the quartet sound with a visceral force that is reminiscent of Nyman's own classical-meets-rock ensemble, the Michael Nyman Band, for which he wrote extensively during the 1980s and 1990s. The first quartet is also unusual in the way it juxtaposes pre-existing material from a variety of seemingly unrelated sources: John Bull's Walsingham Variations, the fourth movement of Schoenberg's String Quartet No. 2, and perhaps most surprising of all, the Righteous Brothers' well-known pop hit 'Unchained Melody'.
Nyman's usual approach when using pre-existing ideas is draw from a single source or musical tradition. Originally composed for dancer Shobana Jeyasingh, the energetic, foot-tapping String Quartet No. 2 adheres to a rhythmic grid laid down across the work's six movements via South Indian Carnatic music. Composed in 1989 to mark the overthrow of Romanian leader and dictator Nicolae Ceaușescu, the darkly introspective String Quartet No. 3 is based on Nyman's choral work Out of the Ruins. While the latter was originally composed for a BBC documentary tracing the consequences of a devastating earthquake that destroyed large parts of Armenia in 1988, the third quartet layers Romanian folk melodies over material from Out of the Ruins. Both show how two compositions sharing the same elements can generate startlingly different results: deeply affecting and reflective in Out of the Ruins; tinged with anger and bitter regret in the String Quartet No. 3.
By way of contrast, the large-scale String Quartet No. 4 (1994/5) is a tour-de-force in musical recycling. Here, Nyman takes the twelve movements of his virtuosic solo violin piece Yamamoto Perpetuo (1993) then adds new lines to the remaining three quartet instruments. This process of musical appropriation – imagine Bach adding several instrumental lines to one of his solo violin Partitas in order to turn them into a concerto – adds depth and richness to the original music. The three string lines sometimes support, reinforce or expand on the first violin's polyphonic lines and textures. In the opening movement, new layers are added, taking the music in an entirely new direction. The sounding result is almost like that of a violin concerto with string accompaniment; and indeed some of the music from the fourth quartet found a new home in the five-movement Strong on Oaks, Strong on the Causes of Oaks (1997), for chamber orchestra, written for the English Sinfonia.
Sixteen-years separate Nyman's String Quartets Nos. 4 and 5, and although the fifth does not directly draw on pre-existing material, the exuberant quality of its first and fifth movements vividly illustrate the composer's penchant for dance-like rhythms and patterns, while the lyrical, song-like second and sixth hint at themes found in his bittersweet soundtrack to Michael Winterbottom's 1999 film, Wonderland.



"Nyman composes with his ear to the past
and his eyes to the future"


Saxophonist Jess Gillam's vivaciously insouciant rendition of Nyman's single-movement saxophone concerto Where the Bee Dances (1991) at the 2016 BBC Young Musician of the Year final has finally drawn attention to the composer's other contributions to this genre. The equally-popular The Piano Concerto (1993) has maintained a high profile, cleverly weaving together several themes from Nyman's hugely successful soundtrack to Jane Campion's award-winning film, but performances of his many other concertos are now surely long overdue. These include, amongst several others, concertos for Trombone, Harpsichord and Violin. Written for Christian Lindberg, the Concerto for Trombone and Orchestra (1995) sets up a dynamic narrative between soloist and orchestra through the use of dramatic contrasts, from the bright, lyrical solo trombone melody at the beginning to the boisterous, percussion-heavy cacophony that gate-crashes the party later on. In-between the two, fleeting references to Purcell's Funeral Music for Queen Mary are added to impart a truly multi-dimensional quality.
Contrasts of a different nature are revealed in Nyman's Double Concerto for Saxophone, Cello and Orchestra (1997), where sudden gearshifts jolt the music away from what the composer has called 'cleanly diatonic' to more 'muddily chromatic' moments. The concerto's forward drive and propulsion is a nod towards Mazda Cars (UK), who commissioned the work. Written for Gidon Kremer, the Violin Concerto (2003) is the first in a projected cycle of five concertos for the instrument. It uses a framing device that slices up the work into eighteen short segments. With the shadow of Berg's Violin Concerto never far away, unusually for Nyman its sound sometimes hints at 1930s European jazz and the influence of Kurt Weill.
The edgier and wiry Concerto for Harpsichord and Strings (1995) was also written with a specific performer in mind: Elisabeth Chojnacka. Combing new material with rhythmic patterns and chord sequences from solo pieces such as The Convertibility of Lute Strings (1992) and Tango for Tim (1994), the Concerto for Harpsichord and Strings is an example of what Robert Worby has termed 'classic intertextuality'.
Nyman's ability to weave together forms and structures from a patchwork of pre-existing ideas is an important part of his aesthetic, one where compositions are often connected and related through a kind of family tree-type network of associations. Such familial interrelationships and connections are none more apparent than in the composer's sets of operas and symphonies.
---
---

Since its premiere at the Institute of Contemporary Arts, London, in 1986, Nyman's first opera The Man who Mistook his Wife for a Hat, has received regular performances world-wide to warm critical acclaim. For three singers and chamber ensemble, the short story by neurologist Oliver Sacks centres on a retired professional singer's struggle to overcome the debilitating effects of brain impairment through song. It's a subject that has become increasingly relevant at a time when music is used to rekindle lost memories in people suffering from personal trauma or living with dementia. Other works present the operatic form in new and unusual contexts. Love Counts (2005) features an aging boxer who comes to terms with his own mental challenges by falling in love with a mathematics teacher, while the part-historical, part-biographical Man and Boy: Dada (2003) is based in London during the immediate aftermath of the Second World War. One of its main characters is Dada artist Kurt Schwitters.
Arguably Nyman's most ambitious stage work to date is Facing Goya (2000). Described by the composer as an 'opera of ideas', it reconstructs a scenario wherein Spanish painter Francesco Goya's skull – gone missing when his remains are exhumed from the cemetery at La Chartreuse some sixty years after his death – is rediscovered, and its DNA extracted to clone the artist. Typical of Nyman, the opera's historical sweep is wide, ranging from nineteenth-century craniometry to present-day Biotechnology and genetic engineering. Nyman's trademark propulsive rhythms feature strongly in the opera's opening scenes but are gradually replaced with more reflective moments, such as in the final, poignant aria 'Forgive Me', where the cloned Goya is left alone on his hands and knees, desperately trying to fit together the pieces of his broken skull…
The unusual and unorthodox scenarios presented in Nyman's operas often translate to his vocal works. The female voice in particular has formed an essential part of the composer's sound world since the early days of the Michael Nyman Band. Nyman often writes with the particular vocal qualities of specific singers in mind, which range from the edgier rock and pop-based voices of Dagmar Krause and Ute Lemper to classically-trained singers such as Hilary Summers, Sarah Leonard and Marie Angel. The Six Celan Songs (1990), for voice and ensemble, was written for Ute Lemper's distinctive voice, with the song-cycle's settings of poems by Paul Celan marking a shift towards a more lyrical and expressive style. Lemper also features in the one act television opera Letters, Riddles and Writs (1991). Written to mark the bicentenary of Mozart's death, a mock courtroom scene is staged at one point where Nyman is accused of 'blatant intellectual theft' by 'stealing' the music of other composers. Written for Marie Angel, I Sonetti Lussuriosi (2007), for voice and orchestra, is an especially restrained setting of erotic texts by Renaissance poet Pietro Aretino.



"Nyman's Symphony No. 11 ranks as one of the most significant contributions to the form in the twenty-first century"


If Nyman's operas and song-cycles often present unlikely scenarios, his symphonic cycle 'archives' new, old and borrowed material from existing works – drawing upon, developing and reworking ideas so that they literally 'sound together'. Nyman thus evokes the symphony's original meaning, allowing him to expand on melodic themes, rhythmic patterns, and harmonic sequences that were perhaps only partially realized in earlier works. As Nyman states: 'I'm a composer who discovers something, writes something, makes something and then spends a lifetime making something else out of it.'
Having stated in 2014 that his aim was to compose a cycle of nineteen symphonies, Nyman is well on the way to completing this ambitious project. Among an already impressive set is the dark and brooding fifth, composed in 2013, and the more playful second, composed a year later. Recycling ideas from the fifteen-minute A Dance He Little Thinks Of (commissioned by the Yorkshire Orchestral Consortium), the sixth movement of the String Quartet No. 2, and music that was originally composed in 1989 for the audio-visual exhibition, La Traversee de Paris, the fifth symphony is a coat of many colours. Its first movement presents a complex series of interlocking lines over a repeating nine-note pattern, while the third's ominous-sounding chaconne bass, astringent dissonances and fatalistic tone is far-removed from typical Nyman. A rumbustious concluding movement provides a fitting close, exuding the kind of swagger one associates with the composer's earlier style. Based on Pozcatek – originally a soundtrack for the Michael Nyman Band that has also been turned into a piano trio – the Symphony No. 2 starts off by echoing the lyrical qualities heard in soundtracks such as The End of the Affair. A scherzo-like third eventually gives way to a rhythmically-propulsive finale, which encapsulates the symphony's shadows-and-light tone by reintroducing a dance-like melody that featured in the first movement. Several symphonies have also been composed as personal tributes or reflections on tragic events. Nyman's Symphony No 3 (2014) was written as a homage to Polish composer Henryk Górecki, while the Symphony No. 11 ('Hillsborough Memorial') is an extraordinarily moving tribute to the ninety-six Liverpool supporters who died at Hillsborough football ground in April 1989. It ranks as one of the most significant contributions to the form in the twenty-first century.
As seen from this whistle-stop tour of Nyman's works list, there is much to explore that lies beyond the composer's film music. These also include projects that started as film music but evolved into concert-based works, such as the hour-long Man with a Movie Camera (2002), which provides music to Soviet film-maker Dziga Vertov's well-known 1929 silent film, and subsequent offshoot, NYman with a Movie Camera (2010) – where Nyman overlays his own film to his music for Vertov's film – to other film projects such as The Art of Fugue (2012) and Aztecs in Liverpool, the latter created for the Liverpool Biennale in 2014.
Like a musical archaeologist, Nyman thus composes with his ear to the past and his eyes to the future – uncovering precious musical artefacts and chiselling fresh and vibrant sonic edifices out of them.


Pwyll ap Siôn

Pwyll ap Siôn is a musicologist, composer and Professor of Music at Bangor University.