The Chamber Music Works of Ross Edwards
In 2023, his 80th Birthday year, we celebrate the Chamber Music of Ross Edwards.


"Ross Edwards is arguably our most recognisable homegrown musical voice. (He) has absorbed the land's original sounds through his pores, and they flow back through his pen." - Adelaide Advertiser

Throughout a successful career, Ross has written music that celebrates Australia's cultural diversity and its connection to the Pacific Rim region. Perhaps nowhere is this better demonstrated than in his chamber music, which allows for rich, detailed musical textures as well as an intense, focussed intimacy.
Edwards' chamber music is known for its mesmeric, meditational quality which is inspired by nature, insect patterns and birdsong. These works celebrate levity, joy and vitality that heals and uplifts the spirit.
We take you on a chamber music journey to discover the inimitable music of Ross Edwards.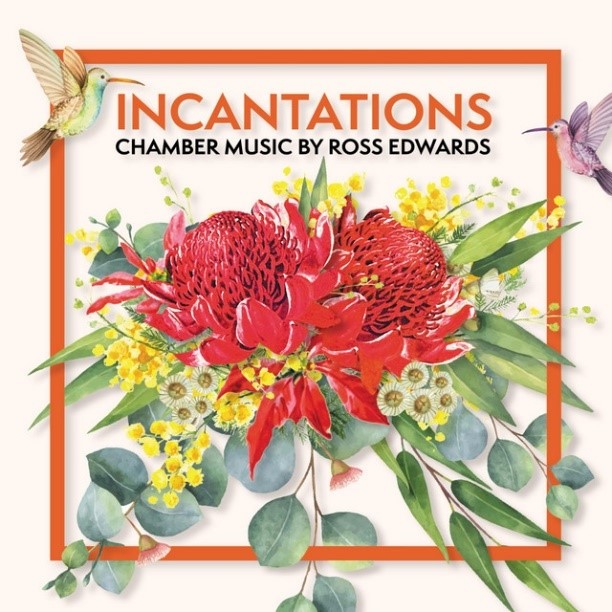 Laikan for instrumental sextet
Derived from an old Gothic word which suggests liveliness and rhythmic vitality, the work encompasses quick, dance-like sections with serene, sinuous and richly decorated melody against a drone-like string accompaniment. The central section is a recomposition of the popular and colourful Madagascan Folksong.
Ecstatic Dances for various duos
The radiant and insistently melodic work initially grew out of a flute duo, followed by various instrumental arrangements including string duos, quartets and orchestra, which became a staple in programmes. The two part dance employs hocketing as a device to produce a graceful interplay of hypnotic sound patterns that flower and dissipate into a remote, nocturnal sequence.
Animisms for five instruments
This suite in five movements was composed in the spirit of "light but not trite" and encapsulates the playful spirit of Edwards' works, infused by Southeast Asian flavour, joyous Madagascan folk tunes which see the lively responsorial exchanges between the woodwind, strings, and a bubbling marimba accompaniment.
String Quartet No. 2 'Shekina Fantasy' for string quartet
Drawing together diverse components of musical languages absorbed from the natural and cultural environments of Australia and South East Asia such as birdsong, chants, drones and shapes inflected by insect and sound patterns as well as the plainsong and counterpoint of European music, the phantasmagoric and rhapsodic movements evolve into a graceful maninya that integrates all worlds.
Djanaba for guitar and marimba duo and guitar duet
The title is an Eora word (from the people who originally inhabited the Sydney basin) that means laughter and reflects the light-hearted spirit of the music. It is in three short movements – two radiant, rhythmically buoyant dances framing an introspective recitative.
The Laughing Moon for wind quintet
A combination of music based on earlier works such as Djanaba, the laughter infused, light-hearted spirit of the music culminates in a brief, joyous finale of the Clapping Dance in which the horn player is asked to play the Indigenous rhythm sticks.
A Flight of Sunbirds for piano duet
The nine bagatelles are miniature duets composed for young musicians to perform with their teachers but equally intended to be performable by enthusiastic young pianists, amateurs and professionals and on the whole, are more of test of musicianship than technical prowess.
Binyang for clarinet and percussion
Binyang is an Aboriginal word for bird. The two movement work is underpinned by a scale from a captivatingly persistent and strikingly melodic birdcall. The identity of the bird remains a mystery, reflecting the interior, remote and mysterious tone that contrasts starkly with its joyful melodic outpouring that is asserted by Aboriginal clapping sticks in the clarinet line.
Nura for flute and piano
Nura means 'place' or 'country' in a language spoken by people living in the area that is now Sydney for many thousands of years before British colonisation. The stillness of mountains, arresting birdsong, mysterious insect drones and sensuous water sounds are captured and separated into three distinct sections: Wild Bird Morning, Ocean Idyll, and Earth Dance.
Arafura Dances for guitar and strings
In reference to the turquoise Arafura Sea of Darwin, the three movement lyrical and expressive adagio is framed by two pulsating maninyas inspired by a variety of Australasian and Pacific musical cultures woven into a fabric of insect rhythms and drones.
Incantations for wind quintet
In the style of a maninya, the mesmeric, chant-like quality is achieved through varied repetition and kaleidoscopic interplay of material. Found in the ecstatic, mysterious, sound-tapestry of the insect chorus in the heat of the Australian summer, with birdsong and frog counterpoint, nature serves as the supreme generative force behind this body of work.
White Cockatoo Spirit Dance for string quartet
Vibrant, captivating, life-affirming, and virtuosic, this work is a spontaneous melodic outpouring whose obsessive rhythms appear to have been ritualised from nature.
"Edwards' soundworld is instantly recognisable - at once earthy and transcendental, mysterious and resplendent, fluid and geometric. He has cultivated a music that somehow captures the elemental, the ecological, the universal; and yet which remains utterly idiosyncratic." - Mark Bosch, CutCommon
All the above listed works are conveniently recorded on Ross Edwards' album Incantations.
(Feb 2023)