Thea Musgrave awarded Honorary Membership of the Royal Philharmonic Society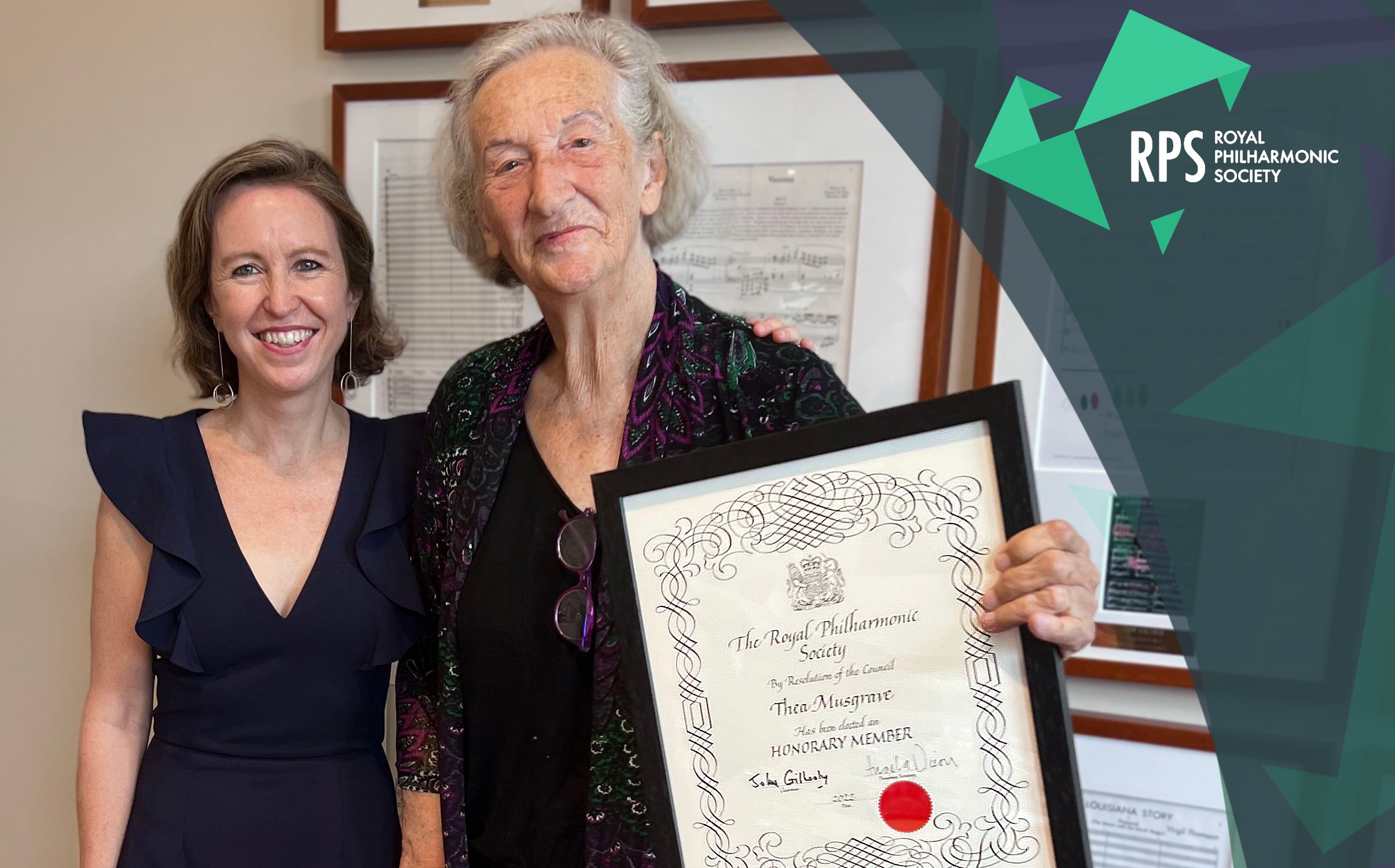 The composer Thea Musgrave CBE has been made an Honorary Member of the Royal Philharmonic Society (RPS) in recognition of her remarkable career and outstanding services to music.
RPS Honorary Membership was presented to Thea on behalf of the RPS by Vanessa Reed, President and CEO of New Music USA, at the New York office of her publisher Novello & Co Ltd, part of Wise Music Group, earlier this week. The occasion was filmed and can be viewed below:

Since 1826, the RPS has presented Honorary Membership in recognition of those who devote their lives to music and uplifting others with it. It was first presented to the composer Weber and subsequent recipients include Mendelssohn, Berlioz, Liszt, Wagner, Brahms, Verdi, Dvorák, Clara Schumann, Tchaikovsky, Rachmaninov, Ravel, Stravinsky, Yehudi Menuhin, Pierre Boulez, Janet Baker and more recently Evelyn Glennie, George Benjamin, Marin Alsop, Stephen Sondheim, and Sarah Connolly.
Musgrave (b. 1928) is the doyenne of British Classical music and a distinguished composer in any genre, with over 160 works to her name – including 12 operas, 2 ballets, over 50 orchestral works and a host of chamber pieces.


Speaking on behalf of the RPS Board and Council, President and CEO of New Music USA, Vanessa Reed says:
'Born in 1928, and still hard at work writing music 94 years later, Thea is a musical icon. Over a remarkable international career, Thea has created a body of work bursting with energy, ready to leap off the page and seize our imagination. Her music abounds with such style and sophistication, constantly asking fresh and daring questions of musical forms and traditions. She lures us in by suffusing her music with so much of the world we know, drawing in particular on paintings, poems, myths and her Scottish heritage as the starting point for so many of her musical voyages.
She has long been beguiled by the inherent theatre of the concert hall, compelling soloists and ensembles to assume new formations, making audiences think anew about what we are witnessing onstage – and our part in it. This was evident in her thrilling Clarinet Concerto, proudly commissioned by the Royal Philharmonic Society in 1969. In presenting Honorary Membership to Thea, the RPS invites performers and audiences to delve into the extraordinary canon she has gifted us, teeming with treasure: athletic and adventurous for its players; atmospheric, suspenseful and cinematic for its listeners.'


Thea Musgrave says:

'Thank you Vanessa for your kind words, and of course to the RPS for granting me this award. That's quite a list of composers! It is a tremendous honour and privilege. Also a privilege is the opportunity to write new music; one which I have had the great fortune to do for, well, quite a few years. Supporting composers and artists in doing that is vital work and am I delighted that organisations like the RPS and New Music USA are around to carry out that mission.
Music is nothing without musicians, and so I am grateful for all those who have commissioned, programmed and performed my music throughout my career, here in this room, here in the US, back in my native UK and around the world. I will find a wonderful spot for this certificate in my studio, as I finish my next opera!'

To everyone, thank you.


Wiebke Busch, Managing Director of Chester Music Ltd and Novello & Co Ltd, says:
'Wise Music Group and I are delighted that Thea has been honoured with this special membership. When one considers her contribution to the canon of classical music, over seven decades, her name sits easily amongst the household names of the centuries gone by. Through the stylistic twists and turns of the twentieth century, her voice has remained strident and unique, and I am delighted that in recent years she has begun to garner the international recognition that she richly deserves. Wise Music celebrates its 50th anniversary this year and we are proud to have published her music in every single one of those years.'


Annually, the Society welcomes nominations for one of its highest accolades, Honorary Membership, from its members and colleagues across the music profession, and recipients are decided upon by a distinguished panel comprising members of the RPS Board of Trustees and Council. A full list of those who have received Honorary Membership can be found here.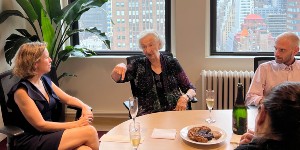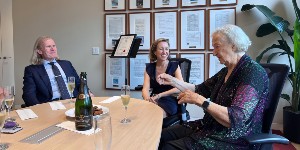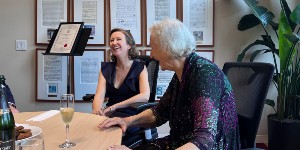 ---
About Thea Musgrave
Born in Scotland in 1928, Musgrave studied at the University of Edinburgh and the Paris Conservatoire under Nadia Boulanger and later, with Aaron Copland at Tanglewood. Over seven decades she has produced unique works for the wide array of BBC Choirs and Orchestras, the RSNO, the Scottish Chamber Orchestra, the Boston Symphony Orchestra, the Royal Stockholm Philharmonic Orchestra, the Royal Opera House, Scottish Opera, the Royal Philharmonic Society, and more recently the City of Birmingham Symphony Orchestra and Los Angeles Philharmonic Orchestra.

A pioneering feature of many of her scores is the incorporation of physical movement by the soloists and orchestral musicians into their playing to heighten the theatre of the performance – a device emulated by many other composers in the decades since. Notable works include the Concerto for Orchestra (1967), Space Play (1974), her seminal opera Mary, Queen of Scots (1977), The Seasons (1988), and Songs for a Winter's Evening (1995). Among her circle of friends and colleagues were Richard Rodney Bennett (1936-2012), Elizabeth Lutyens (1906-1983) and Elizabeth Maconchy (1907-1994), whose daughter, Nicola LeFanu (b. 1947), she tutored privately. As a result of a decades-long friendship with Nicholas Daniel, she has created an unparalleled body of modern works for the oboe. She has received several fellowships, Awards and Honours, including IVORs Award, a CBE (2002) and the Queen's Medal for Music. 

Read her full biography here.
---

For any enquiries regarding the award or Thea Musgrave's music, please contact:
Thomas Le Brocq
Creative Manager (Festivals and Venues)
E: thomas.lebrocq@wisemusic.com
T: +44 (0)20 3929 9010