The Operas of Tan Dun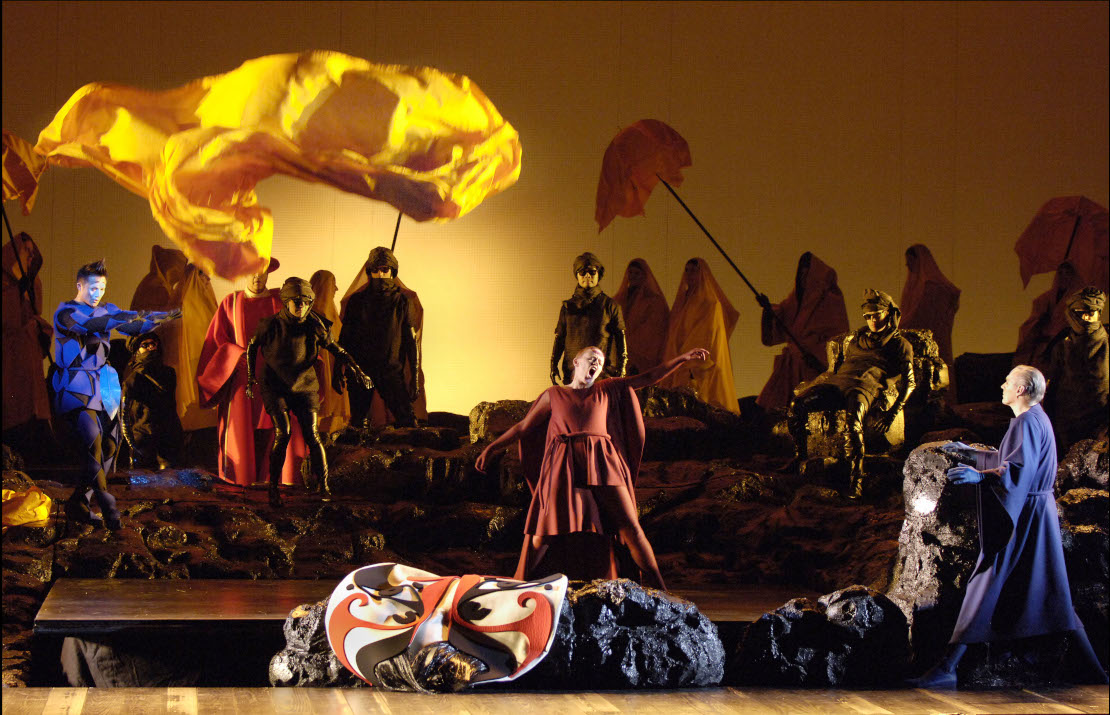 The music of Chinese American composer Tan Dun invites the listener into a personal sound world that expertly marries Eastern and Western musical traditions. Lyrical melodies allow the voice to shine, and the orchestra captivates with unorthodox sounds woven in from the natural world: an "organic music" of stone, clay, water, and paper. Over more than three decades, his operatic catalog has evolved from experimental works to large-scale grand operas that speak to a wide audience. The operas of Tan Dun offer a unique programming opportunity: repertoire imbued with fresh sounds and contemporary interpretations of authentic Asian stories.

Tea: A Mirror of Soul (2002) 1 hr 48'
Libretto in English by Tan Dun and Xu Ying
Translation by Diana Liao
Tea: A Mirror of Soul is Tan Dun's most frequently performed opera, with several productions in Europe, Asia, and the United States. The rich score has a lush and Italianate lyricism complemented by the composer's signature organic sounds, the most important of which is water. The opera opens in ancient Japan where a monk named Seikyo performs a ritual tea ceremony with an empty cup. When curious monks ask how he can savor tea from emptiness, Seikyo answers by telling his life's story. Born a prince in China, he fell in love with a princess whose brother positioned himself as an adversary. In a duel over possession of the true Book of Tea, the princess is tragically killed. Rather than seek revenge, Seikyo cuts off his hair and devotes himself to the pursuit of peace through ritual.


Marco Polo (1995) 2 hr
Libretto in English by Paul Griffiths, based on his novel Myself and Marco Polo
Marco Polo is an expansive and multi-layered opera loosely based on the explorer's famed travels from Venice to China. The geographical journey from West to East coexists with a spiritual journey, free from the constraints of normal spacetime. Marco Polo becomes two characters; Marco (mezzo-soprano) represents the earthly human being and Polo (tenor) represents memory. In addition to the vocal soloists, the score calls for a chorus of 20 and an orchestration with a wide range of timbres. Modern and medieval European instruments join those that Marco Polo might have encountered in his travels: sitar, pipa, sheng, tabla, and Tibetan horns and bell.
Marco Polo won the prestigious Grawemeyer Award for Music Composition in 1998 and displays the composer's singular talent for bringing distinct musical traditions into harmony.


Nine Songs (1989) 1 hr 30 min
Text by the composer after Qu Yuan (340-277 BCE)
Nine Songs is non-narrative work based on ancient poems of the same name by the great Chinese poet Qu Yuan. Blending dance, music, and drama, each song is filled with the beauty of nature and the mysteries of shamanistic ritual. The text is a multi-language construction of abstract sound and form; it makes an independent but integral contribution to the musical scoring.


Peony Pavilion (1998) 1 hr 50 min
Libretto based on the original play by Tang Xianzu (1598)
English translation by Cyril Birch
A masterpiece of the traditional Chinese Kunqu opera, The Peony Pavilion was originally written in 1598. It tells the story of a pair of seemingly doomed young lovers who nevertheless receive a happy ending. Tan Dun's interpretation of this classic sets the original text (as translated by Cyril Birch) in a contemporary scoring that masterfully blends and borrows from Kunqu, Gregorian chant, and popular music idioms alike. The 1998 recording Bitter Love: Songs from Peony Pavilion is now a beloved cult classic.


The First Emperor (2006) 2 hrs 35 min
Libretto in English by Tan Dun and Ha Jin
Commissioned by the Metropolitan Opera and premiered in 2006, The First Emperor is a narrative historical opera with a libretto by the acclaimed Chinese author Ha Jin. It takes as its subject Chin Shi Huang, the first emperor of China. Hoping to create an anthem to unify his lands, the Emperor calls for his childhood friend and master musician Gao Jian Li to appear at court and compose the song. Though they were like brothers as children, Jian Li has been subjected to the brutality of the Emperor's reign in the intervening years. Behind the Great Wall and the Terracotta Warriors lies a truly operatic story of love, hate, loss, and betrayal.


Buddha Passion (2018) 1 hr 37 min
Libretto in English, Chinese, and Sanskrit by Tan Dun
Additional text from Tang Dynasty sources
Buddha Passion is the very first 'passion' story written about the lessons of Buddha, with music inspired by the awe-inspiring Mogao Caves and the city of Dunhuang, an important outpost of the ancient Silk Road. There lies the greatest collection of Buddhist paintings, sculptures, and architecture in the world; a sacred place where monks and pilgrims carved shrines out of the rock cliffs for generations. In keeping with centuries of this spiritual exploration and cultural exchange, Tan Dun himself spent two years immersed in the musical history of the area, even recreating some of the instruments depicted in the Mogao murals.
His fascination and countless hours of research culminate in this ambitious work, weaving chants, stories, and sounds of Dunhuang into an opera of six individual short stories that capture the ancient narratives of the Buddha's teachings: timeless, universal concepts of love, forgiveness, sacrifice, and salvation.
For more information, please contact your local Wise Music Promotion Team. See Contact Us.
(July 2022)