Kirke Mechem
b. 1925
American
Summary
Kirke Mechem is a prolific composer with a catalogue of over 250 works. He enjoys an international presence, as ASCAP recently registered concert performances of his music in 42 countries. Born and raised in Kansas and educated at Stanford and Harvard Universities, Mechem conducted and taught at Stanford, and served as composer-in-residence for several years at the University of San Francisco. Mechem also lived in Europe, spending three years in Vienna where he came to the attention of Josef Krips, who later championed the composer's symphonies as conductor of the San Francisco Symphony. He was guest of honor at the 1990 Tchaikovsky Competition in Moscow and was invited back for an all-Mechem symphonic concert by the USSR Radio-Television Orchestra in 1991.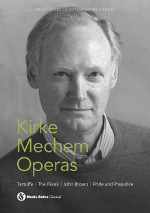 online brochure

He has been honored and recognized for his contributions from the United Nations; the National Endowment for the Arts; the National Gallery; the American Choral Directors Association; the Music Educators National Conference, and was presented with a lifetime achievement award from the National Opera Association. In 2012 the University of Kansas awarded him its first honorary degree of Doctor of Arts.

Mechem's compositions cover almost every genre, but vocal music is the core of his work. His three-act opera, Tartuffe, has been performed over 400 times in six countries. His extensive choral works have garnered him the title of "dean of American choral composers." The premiere of Mechem's large-scale dramatic opera based on American abolitionist John Brown was commissioned to celebrate Lyric Opera Kansas City's 50th anniversary. Songs of the Slave — a suite for bass-baritone, soprano, chorus and orchestra from the opera John Brown — had its 100th performance in Boston Symphony Hall, April, 2018. His comic opera, The Rivals (an American update of Sheridan's classic play, The Rivals), was premiered in 2011 by Skylight Opera in Milwaukee. The concert premiere of his opera based on Jane Austen's Pride and Prejudice is scheduled for April, 2019.

Mechem's memoir, Believe Your Ears: Life of a Lyric Composer, won the 2016 ASCAP Deems Taylor Award for "outstanding musical biography."

For specific inquiries about this composer, please contact Marcos.Cuevas@schirmer.com or call 212-254-2100 x 1132.
News
Features
Discover new music with hand-picked selections by our diverse roster of composers.
Photos