Katsumi Love Theme (for orchestra) (1957)
(from 'Sayonara')

Warner Chappell Music Inc (USA and Canada only)

2(II:afl)+pic.2(II:ca).2+bcl.2/

3.2.0.0/

timp.perc/

pf(cel).hp/

str

3 min 30 s
Programme Note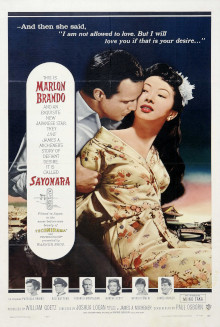 "The pleasure does not lie in the end itself. It's in the pleasurable steps to that end."
Sayonara (Warner Brothers, 1957) is a movie that turns the clock back just a few years from its release date, for a story set in Japan during the Korean War (1950-1953). Based on the novel by James A. Michener and directed by Joshua Logan, Sayonara deals head-on, not with the war, but with racism and prejudice. Marlon Brando, as Air Force Major 'Ace' Gruver (with a southern accent and prejudiced against the Japanese), heads the cast, along with James Garner, Red Buttons, Miko Taka, and Miyoshi Umeki. In addition, in an unusual piece of casting, Mexican-born Ricardo Montalbán is seen as a Kabuki actor, Nakamura.
William Holden was originally tabbed to play the lead, but reportedly left the project to film The Bridge on the River Kwai (1957). Perhaps it was also because, just four years earlier, he had played a Navy flier in a film based on another Michener novel also set in Korea and Japan, The Bridges at Toko-Ri (1953). Rock Hudson was also considered for the Gruver role, and then Logan shifted to Brando. Logan and producer William Goetz objected to Brando playing the role with a southern accent, but Brando, being Brando, insisted, and he had the clout. It's rather humorous when Gruver (Brando) meets the beautiful Kabuki dancer Hana-ogi (Miiko Taka) and says, "Hah da do, Miz Ogi." Later, when she introduces him to sake, he tells her, "We got rice back home, but we just make rice puddin' out of it; we don't drink it."
The prejudice in Sayonara is everywhere. Gruver is about to marry the daughter of a U.S. Army general and is disturbed when his friend, the enlisted man Joe Kelly (Red Buttons), falls in love with the Japanese Katsumi (Miyoshi Umeki). The military has a policy against interracial marriage, and the price is a court-martial. Gruver tries to talk Kelly out of the affair. Meanwhile, Gruver has fallen for the beautiful Kabuki dancer, and her fellow Japanese don't take kindly to that union. Kelly and Katsumi, and now Gruver and Hana-ogi. This sparks an edict by the military to send the policy violators back to the states. Kelly and Katsumi commit suicide. This causes the Army to rescind its order and Gruver and Hana-ogi are reunited.
Logan had originally tried to turn the Michener novel into a Broadway musical. Irving Berlin had written a song called Sayonara, Sayonara for the project, but it never materialized. When it was decided to do a straight drama on film, Berlin figuratively reached into his old show biz trunk and pulled it out.
Sayonara, Japanese goodbye,
Whisper sayonara, but you mustn't cry
Sayonara, If it must be so
Whisper sayonara, smiling as we go…
Sayonara, sayonara
Goodbye.
For the music in Sayonara, Waxman signed on reluctantly, knowing of the commitment to Berlin's title song. However, producer Goetz and director Logan assured the composer he would have complete artistic freedom with the score. Umeki and Buttons, as the star-crossed lovers Kelly and Katsumi, both won Oscars in the Best Supporting Actor category; and Waxman said their tragic love story was his inspiration for the poignant and haunting Katsumi Love Theme, with its Japanese motifs and oriental instruments. Although it seemed a given that Berlin's tune would end up as the title song, Waxman had both themes, Sayonara and Katsumi Love Theme, orchestrated as title versions. While Logan loved the Waxman theme, he said, his (Logan's) long history with Berlin made it the decent choice. As Max Steiner had woven Herman Hupfeld's song, As Time Goes By into the score for Casablanca (1942), Waxman wove Berlin's song into the multi-textured music he created for Sayonara. After the film was released, Berlin wrote Waxman a letter, in which he graciously congratulated Waxman, not only on the arrangement of his title song into the film, but on the beauty of Waxman's love theme.
In addition to Buttons and Umeki's Oscar wins, Sayonara's art direction and sound also won. There was no nomination for Waxman's score, which Logan said, contributed so much, "to the emotion and authenticity of the picture." He was incensed that Waxman did not receive an Oscar nomination. "What a shock, ridiculous," he wrote the composer. "I'm sure [the use of] Berlin's song hampered you both before and after the voting."
At the end of the film, when asked by a reporter to comment on his pending marriage to a Japanese woman, and, the fact that both the U.S. military and the Japanese are not going to like it, Brando's character states, "Tell 'em we said, 'Sayonara'."
— Jim Brown
Media
Scores
More Info