The Nun's Story: Suite (1958)


G Schirmer under license to Fidelio Music from Warner Chappell (World)

Programme Note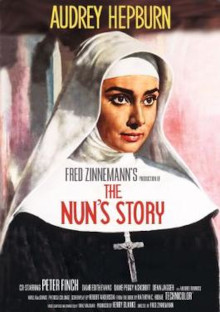 Sections
Prelude
I Accuse Myself
Haircutting
Killing of Aurelie
Finale
Note
Kathryn C. Hulme's semi-autobiographical book The Nun's Story remained on the best-seller list for over a year, and in subsequent editions, has sold close to four million copies.
Universal in its appeal, Fred Zinnemann's 1958 Warner Brothers film examines the inner struggle of a young Belgian woman (Audrey Hepburn) who forsakes the comforts and pleasures of worldly life to seek peace and inner tranquility in a convent. She quickly discovers that life as Sister Luke is no less challenging or confusing than life as Gaby van der Val. Sent by her order to the Belgian Congo, Sister Luke finds turmoil both in the mission hospital where she works (run by Peter Finch) and within herself. Nor does she find personal peace through later work in war-torn Belgium. In an inner struggle to define her faith, commitment, and shifting sense of values, Sister Luke bares her soul in uncommon honesty, emotion, and intelligence. Her decision to finally leave the religious order comes not as a defeat – but as an act of fulfillment that could never have been achieved without the new understanding she has developed as a nun. She is no longer a girl, she is no longer a nun, and she is not yet a woman of our world. But she is on the path to her own ultimate answer.
Producer Henry Blanke has commented:
The music which Franz Waxman has composed for The Nun's Story bears the same kind of overflowing honesty and womanly emotion that characterizes Audrey Hepburn herself in the role of Sister Luke. Waxman's music tells the story with warmth and understanding. Just as Sister Luke seeks a level of unquestioning obedience and discipline, so has Waxman sought and found the various moods of happiness, dedication, indecision, and agonizing failure in her struggle to perfection. He has carried Ms. Hepburn through her novitiate to the accompaniment of the powerful music of the church, through her hazardous assignment as a nurse in an insane asylum with the music of madness tempered by the dutiful serenity of the nuns.
Waxman has noted: "The entire score was based on Gregorian chants which I had the opportunity to research in the Papal Library in Rome."
Media
Scores
More Info