Rebecca: Suite (1940)


G Schirmer under license to Fidelio Music from EMI Music (World)

Programme Note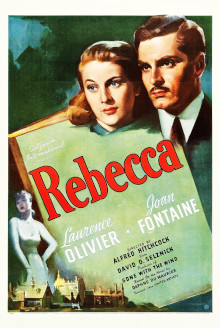 Movements
Main Title
After the Ball
Mrs. Danvers
At Dawn
Confession Scene
Manderley in Flames
Note
David O. Selznick's production of Rebecca (1940), based on Daphne du Maurier's Gothic mystery, was Alfred Hitchcock's first American film. It was also the first of four memorable scores Waxman was to do for Hitchcock (Suspicion followed the next year, and The Paradine Case and Rear Window came a few years later). Rebecca won the Oscar for Best Picture (the only mystery ever to win), and the stars, director, and music were all nominated. The complexity of the du Maurier story, with its combination of the naivete of the young girl (Joan Fontaine), the sophistication of Maxim (Lawrence Olivier) and the coolness of the evil Mrs. Danvers (Judith Anderson), and the mysteriousness of the setting were the perfect inspiration for Waxman. He considered Rebecca the most challenging assignment of his career and his best score.
Waxman's versatility can easily be appreciated when you consider that he wrote the scores for both Rebecca and The Philadelphia Story simultaneously.
The Rebecca Suite has been recorded by Charles Gerhardt and the National Philharmonic as part of Sunset Boulevard: The Classic Film Scores of Franz Waxman (RCA).
It can also be heard on Music for Alfred Hitchcock with John Mauceri conducting the Danish National Symphony Orchestra (Toccata Classics) and on Hollywood Soundstage by the Sinfonia of London led by John Wilson (Chandos).
The original soundtrack was re-recorded by Joel McNeely and the Royal Scottish National Orchestra (Varese Sarabande).
Media
Scores