Suspicion: Suite (1941)


G Schirmer under license to Fidelio Music from EMI Music (World)

2(I:pic.II:afl).1.3(II:acl.III:bcl).1/

3.3.3.1/

timp.3perc/

2pf.syn.2hp/

str

12 min 4 s
Programme Note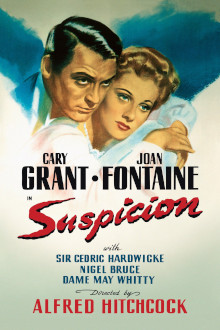 Sections
1. Prelude
2. Sunday Morning
3. The Chairs are Back
4. Melbeck's Office
5. Looking for Johnny
6. Too Fast and Finale
Note
Franz Waxman, having produced a masterly score for Rebecca (1940), went on the next year to compose another score for an Alfred Hitchcock film, Suspicion (RKO, 1941), the director's second "English" picture. (Though it was made in Hollywood, the actors, the atmosphere, and the novel, Before The Fact by Francis Iles, are all English). Joan Fontaine, who won an Oscar for her performance, plays a woman who, upon realizing that her husband who is a playboy, a spendthrift and a liar, begins to suspect him also of wanting to murder her — though subsequent events prove her to be wrong.
In Sunday Morning, Cary Grant begins to court Fontaine; in The Chairs are Back, Grant, having sold some valuable antique chairs in order to bet on the races, buys them back (having won). In Melbeck's Office, Fontaine learns that Grant is unemployed and in trouble; Looking for Johnny depicts Fontaine's anxiety that Grant is bent on murdering his friend (Nigel Bruce). Too Fast is the famous scene in which Grant takes Fontaine on a car ride. She thinks he is trying to kill her, but he is merely driving fast and enjoying it.
Waxman works within the late-Romantic framework which was the stylistic norm in Hollywood at that time; yet because he was a composer and musician of distinction, highly intelligent and selflessly devoted to his work, he avoids cliché and supplies music which can always be listened to for its intrinsic qualities of invention.
Recorded by the Utah Symphony conducted by Charles Ketcham, this Alfred Hitchcock CD was produced by George Korngold.
— Christopher Palmer, 1985
Media