Prince Valiant: Suite (1954)


G Schirmer under license to Fidelio Music from Warner Chappell (World)

orch. Leonid Raab and Edward B. Powell, ed. Charles Gerhardt
Programme Note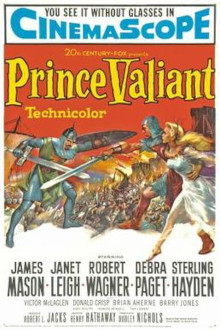 Sections
Prelude
King Aguar's Escape
The Fens
The First Chase
The Tournament
Sir Brack's Death and Finale
Note
"I called you a traitor when you delivered me into Sligon's hands and now I say it again — traitor!"
Knighthood flowered in Hollywood in the 1950's, when the studios, fighting the audience-draining draw of television, sensed that the widescreen format, CinemaScope (introduced by 20th Century Fox with The Robe, 1953), was ideal to tell the story of "knights in shining armor" and "damsels in distress." CinemaScope's format was two and a half times the size of the standard movie screens. (While Alfred Newman scored The Robe, the sequel, Demetrius and the Gladiators (1954), was the work of Franz Waxman.)
MGM initially missed the widescreen revolution, with the release the year before, on standard screen size, of knights and ladies faire in Ivanhoe (1952, music: Miklos Rozsa). It starred the Taylors, Robert and Elizabeth. However, after Fox licensed every major studio in Hollywood (except Paramount) to make CinemaScope films, MGM jumped on the bandwagon, again using Robert Taylor, in Knights of the Round Table (1953, music: Miklos Rozsa). This time, Taylor's fair maiden was Ava Gardner. Not to be outdone, Universal's first CinemaScope feature teamed husband and wife, Tony Curtis and Janet Leigh, in The Black Shield of Falworth (1954, music: Hans Salter.) Sensing box office in this medieval frenzy, Warner Brothers' initial CinemaScope offering was King Richard and the Crusaders (1954, music: Max Steiner.) George Sanders played Richard. A dark-skinned Rex Harrison was Saladin, and Virginia Mayo, as Lady Edith, uttered, "Oh, war, war! That's all you think about, Dickie Plantagenet!" There was one more 'knight' movie that year, The Black Knight (1954, music: John Addison), starring Alan Ladd, but Columbia copped out and filmed it in the old standard format.
While all this was going on, 20th Century Fox raided the comic-strip world for their CinemaScope venture into the Arthurian legend, Prince Valiant (1954). Based on the elaborate and densely detailed drawings of Hal Foster, Valiant was played by a young Robert Wagner (with Dutch-bob hair), his lady love, Janet Leigh (My, she was busy that year!) and James Mason as the villainous Sir Brack, aka The Black Knight. (It was the same year Mason starred as the complex Captain Nemo in Disney's, 20,000 Leagues Under The Sea.
This medieval swashbuckler, Prince Valiant, with its English pageantry, was something of a departure for Franz Waxman. Dealing with a story of honor, loyalty, valor and love, he composed a refreshing, ornate score, ranging in style from the early madrigal to the symphonic idiom of post-romantic periods. It is richly detailed and rousing music, capturing the spectacle of the age of chivalry and bringing to life the visuals of knighthood's code of behavior and daring deeds of heroism. The score is right up there with Erich Wolfgang Korngold's more famous swashbuckling music for The Adventures of Robin Hood (1938), although Robert Wagner's heroic acts in Valiant falls short of Errol Flynn's feats in Robin Hood, which is the definitive film of its genre. The concert suite for Prince Valiant is composed of Prelude, King Aguar's Escape, The Fens, The First Chase, The Tournament, Sir Brack's Death, and Finale.
When the movie opened at the historic Grauman's Chinese theater in Hollywood, a special curving CinemaScope marquee was mounted at the front of the courtyard between the theater's two wings. In lights it spelled out, P-R-I-N-C-E-V-A-L-I-A-N-T. Above it, as a reminder of this new visual world, and in far bigger, letters, was the word —- CinemaScope.
— Jim Brown
Media
Scores