Portfolio of piano works by Herbert Howells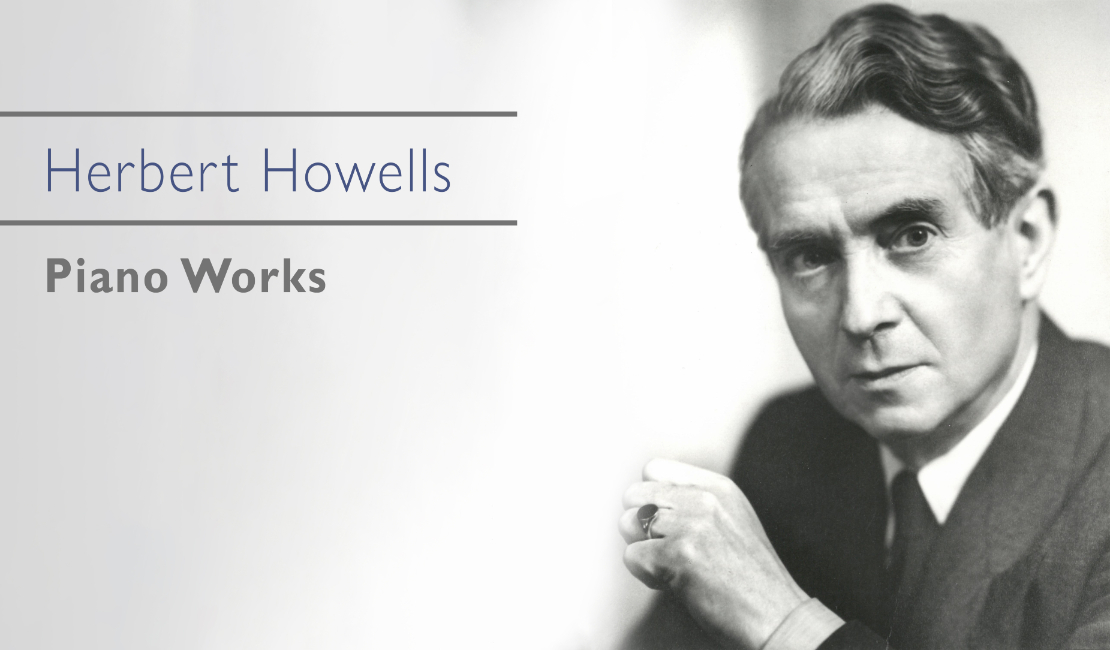 Herbert Howells Piano Works, a collection of fifteen previously unpublished piano works by one of the masters of English Choral music, won best 'New Publication of the Year' in the Presto Music Awards 2021. In this short essay, Editor and Howells scholar Jonathan Clinch delves deeper into history behind the works and the French, Tudor and contemporary British influences which permeate his music.

The name of Herbert Howells has become synonymous with the finest choral music within the English tradition and he still influences composers today, but in recent years a growing number of recordings of orchestral, chamber and instrumental music have demonstrated just how much he achieved outside of the church. This volume provides an opportunity for precisely this sort of reassessment, whilst at the same time giving a characteristic overview of his compositional style as it evolved over sixty-five years. The pieces contained herein are all being published for the first time and bring together manuscripts found in the special collections at the Royal College of Music and five private collections. Ultimately, the music in this volume demonstrates that Howells's celebrated compositional style, which is instantly recognisable, transfers well to the piano.


The portfolio is available to buy now from Hal Leonard
The earliest works are attractive character pieces in a Romantic idiom which show just how different Howells's writing was before he began to study with Charles Stanford (from 1912). The Phantasy and Harlequin Dreaming demonstrate not only an emerging French influence, but also what a remarkable compositional technique the young Howells had during a period when he was considered the leading British composer of the younger generation. Whilst these French influences remained in Howells's work, other interests, particularly that of Tudor music, were also absorbed into his personal style and the three dances and chanson show how much he continued to develop and refine his writing. In the final Petrus Suite, he distils and simplifies the idiom significantly, writing beautiful miniatures that are instantly recognisable as coming from the mature Howells's pen. Most of the pieces were written as gifts and so at the time there was no intention of publication. They are formally and stylistically original and distinctively Howellsian. There is a large range of difficulty too, from the first piano grades (such as the Minuet for Ursula) through to professional diploma standard (such as the Phantasy).
Howells' earliest musical education came from his sister at an old upright piano within the family home at Lydney, Gloucestershire. Although the family had very little money, his headmaster encouraged him and a local squire funded more serious musical tuition with Herbert Brewer at Gloucester Cathedral, becoming an official apprentice at the same time as Ivor Gurney and Ivor Novello. Crucially, the link with Gloucester also drew Howells into the world of the Three Choirs Festivals, where he experienced not only the riches of the oratorio tradition but also some of the latest contemporary music. When he won an open scholarship to study at the Royal College of Music in 1912, he changed overnight. The 'queer looking scrubby little creature' (that Sir Hubert Parry describes in his diary) transformed himself into a charming, dapper gentleman. Likewise with the move to London, Howells jettisoned so much of his early musical style in favour of a far more refined writing where every note mattered. The move to such a cosmopolitan city allowed Howells to soak up all of the latest music. Sir Hubert Parry mentored him and he was frequently invited to salon recitals in the homes of the rich and famous in Kensington and beyond. The Royal College of Music itself hosted many of the earliest London performances of new music and it was the French school of Debussy and Ravel which had the greatest impact on Howells. Likewise, the wartime performances of Sergei Diaghilev's Ballets Russes were unmissable for the young composer. He joined the teaching staff of the Royal College of Music in 1920, remaining there throughout his career until ill health forced him to reduce his musical activities in the late 1970's. He died in 1983 and was buried in Westminster Abbey.
As with many composers, the piano was the instrument at which Howells liked to experiment and although he never composed directly at the instrument (Stanford had taught him that this encouraged poor technique), it was, nevertheless, an important tool for him. It also played an important role in his creative imagination. He claimed that he could never write without a person or a place in mind, and his most personal gifts were very often piano pieces. All of the pieces in this volume fit into this category.
Howells's lessons with Herbert Brewer consisted of piano and organ performance, composition, and harmony and counterpoint. Five piano pieces survive from this period. The Arab's Song is the earliest extant piece of Howells, written on his sixteenth birthday and preserved in a single manuscript (RCM MS 4702). The other four pieces are contained in a single manuscript notebook, along with solo songs and theory exercises. The notebook mixes songs and romantic piano miniatures with poetic titles (and in one case an extract from Wordsworth): Legend [for piano] - 'From a Northern Land no.ii', February 1909; incomplete piano piece 'Gnomes', February 1909; 'By the Sea - Wordsworth' incomplete piano piece, January 1908; songs 'A Visit from the Sea' and 'Windy Nights' (Robert Louis Stevenson), December 1908; To a Wild Flower for piano, December 14th 1908; 'Charm me asleep' (Robert Herrick), December 15th 1908; Melody [for piano] ('no.i of Two Little Melodies'), January 8th 1909; Romance [for piano], December 31st 1908.
The 1910 Three Choirs Festival had a strong impact on the young Howells, particularly the premiere of Ralph Vaughan Williams's Fantasia on a Theme by Thomas Tallis. It was then that he committed to following a professional career as a composer. His lessons with Herbert Brewer had provided a strong training in both performance and composition. His friendship with Ivor Gurney was also hugely influential. Gurney departed for the Royal College of Music that year, but continued to return home to Gloucestershire regularly, and the pair frequently walked in the surrounding countryside for days at a time. The Summer Idyls (RCM MS 4687 & 4691 – n.b. the early spelling of Idyls was intentional) were written between April and May 1911, and they formed part of a portfolio which he submitted to the Royal College of Music for his open scholarship. In spirit, they seem to capture the pastoral wanderings of Gurney and Howells. In style, they allude to a range of contemporary influences. The general theme is of the Romantic character piece or miniature, and there are moments of Schumann or Grieg, but the changing musical landscape is also represented too, from the jaunty Elgarian tunefulness of Meadow-Rest ('Not too slowly, but very quietly'), Summer-Song ('Very lively and gay'), and In the Morning ('Cheerily'), to the Debussy-like sonorities of June-Haze ('Very peacefully and persistent' – where the hands initially interlock), Quiet Woods ('Tranquil, and not too slowly'), and Near Midnight ('Slowly but not in strict time'). Elsewhere, and particularly in Down the Hills, Howells marks his deep love of Rachmaninoff's piano writing.
French music continued to be a strong influence on Howells throughout his time as a student (1912–17). In Phantasy (1917 – RCM MS 4714) we hear possibly the most successful Ravel-pastiche by an English composer, with Jeux d'eau echoing throughout Howells's playful scherzo. Nevertheless, the level of compositional craft marked Howells's own original voice out, with several commentators pointing to him as 'the hope' for the next generation of British music. At the heart of Harlequin Dreaming (1918 – RCM MS 4705a) is a fantastical waltz which develops through hypnotic repetition, only to vanish to nothing at the end. It is most likely that the puckish character that the composer had in mind was his close friend, Arthur Bliss. The Minuet for Ursula (RCM 7246) was written for Howells's own daughter during the short period in which he attempted to teach her the piano. The manuscript is marked 'Father HH, Saturday 19th Jan 1935'.
The photographer Herbert Lambert had a sideline in making clavichords, and in the summer of 1926 he lent one such instrument to Herbert Howells who was fascinated by the exoticness of this relatively unknown instrument, with its limited range and light expressive touch. It connected him to what he saw as the golden age of English music (with composers such as Tallis and Byrd). It sparked in him a lifelong enthralment with the dance forms, polyphony and modal harmony of the period, and this led to collections such as Lambert's Clavichord (1927) and Howells' Clavichord (1961), as well as many other miscellaneous pieces. Although inspired initially by the clavichord, the composer always chose to play the works on the piano. All of the remaining piano works here fall into the category of this 'clavichord style', fusing Renaissance elements with a thoroughly twentieth-century approach to dissonance and expression at the piano. My Lord Harewood's Galliard (1949 – RCM MS 4690b) was a wedding present for the Earl of Harewood and his first wife, Marion Stein (later Mrs Jeremy Thorpe), who had been a pupil of Howells. It was originally proceeded by a pavane which is now lost.
Gerald Finzi and Herbert Howells had a very complex and, at times, close relationship. On hearing of Finzi's death, Howells wrote a piece in his clavichord style called Finzi's rest: for Gerald on the morrow of 27th September 1956 which was later published as part of Howells' Clavichord. However, this was not the only piece penned that day. The published tribute uses light counterpoint, gentle diatonic dissonance and a rising processional rhythmic pattern in the bass to emulate Finzi's own style. The second piece that Howells wrote that day, Finzi: his rest (RCM MS 4690a), was much darker and far more emotionally troubled. It presents in music a completely different picture of the Howells/Finzi relationship and for those who understand something of the biography, it is a truly astonishing memorial.
The Siciliana, "Comme le cerf soupire…", Pavane and Galliard, and Petrus Suite were all written for pianists at the Royal College of Music. The rich and lilting Siciliana (1958) with its characteristic dotted rhythm, was completed in an afternoon and gently builds to an impassioned climax, after which the tension is gently dispersed. By contrast, the Pavane and Galliard (written for Margaret Bruce) is a much darker response to the renaissance idiom; written in 1964 at a point when he was also working on his Stabat Mater, it is characterised by the torturous harmonic language of the Pavane (intensified by the dance form) and nervous anxiety of the Galliard. "Comme le cerf soupire…" was also written for Margaret Bruce and sets a French chanson which was given to Howells by the critic Edwin Evans in the early 1920's. It was a melody that Howells immediately committed to memory and he liked to improvise upon it at the piano throughout his life, including on one occasion when Maurice Ravel visited London. The Petrus Suite was written between 1967 and 1973 for Hilary Macnamara, the title referring to her son, Peter. The suite underwent a number of revisions and although I have managed to reconstruct seven movements from two sources, it was performed in a number of different orders. An envelope (postmarked 12th March 1973) amongst one source lists the movements as: '1. Vagrant Flute 2. Finnickle's Scherzo 3. Minuet - Sine Nomine 4. Bassoonic's Dance 5. Pro Tem's Toccata'. A performance at Barnes Music Club on 1st May 1973 lists '1. Bassoonic's dance, 2. Gavotte, 3. Finnicle's scherzo, 4. Minuet 'sine nomine', 5. Toccata alias Petrus'. A programme from Harrow School Musical Society for Sunday 29th April (1973) lists: 'Bassoonic's Dance, Gavotte sine Nomine, Finnicle's Scherzo, Odd's Minuet, Toccata'. In common with other works in his late style, the suite shows a further paring back of his writing, to the absolute essentials of Howells's counterpoint. Material from the playful Toccatina was also used by Howells in his Sonatina for piano (1971), but the piece originates from a sketch he made on Easter Sunday 1921.  
Work Listing
1. The Arab's Song (1908)
2. To a Wild Flower (1908)
3. Romance (1908)
4. Melody (1909)
5. Legend (1908)
6-12. Summer Idyls (1911)
13. Phantasy (1917)
14. Harlequin Dreaming (1918)
15. Minuet for Ursula (1935)
16. My Lord Harewood's Galliard (1949)
17. Finzi: His Rest (1956)
18. Siciliana (1958)
19. "Comme le cerf soupire..." (1958)
20-21. Pavane and Galliard (1964)
22-28. Petrus Suite (1967-73)

Matthew Schellhorn's recording of the complete piano music by Howells for Naxos was released in 2020.
 
The portfolio is available to buy now from Hal Leonard.


(Dec 2021)