The Operas of Anthony Davis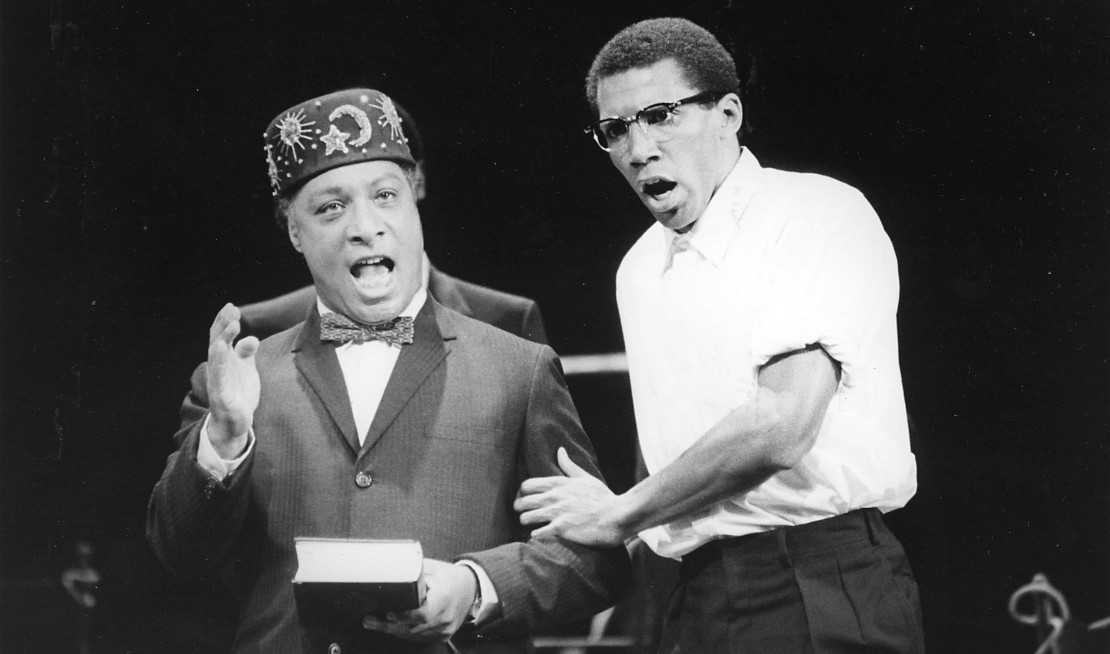 Anthony Davis is an award-winning American composer and pianist with a distinctive compositional voice which draws on jazz and other elements from outside of the traditional classical idiom. He is well known for addressing issues of social justice and African American history in his operas and concert works. Recent acclaim, including the 2020 Pulitzer Prize in Music for his opera The Central Park Five, has brought renewed attention to his earlier body of work. His first four operas, published by G. Schirmer and explored in more detail below, are at once historically important and thematically resonant in this time of great social change.  
X: The Life and Times of Malcolm X (1986) 2 hr 30'
Libretto by Thulani Davis and Christopher Davis
4 Baritones, 5 Tenors, 5 Mezzo Sopranos, Bass Baritone, 5 Sopranos, Bass, Non-Speaking Roles
2(pic)12(2sax)2(cbn)/2120/timp.3perc/cel.pf/str; jazz band: fl.2cl.tpt.perc.vc.db.pf.dms
Davis' first opera uses a series of fast-moving vignettes to create a sketch of the galvanic life and career of controversial African American activist Malcolm X (1925-1965). X features a dark, non-tonal palette, complex, shifting rhythmic patterns, and poignant lyricism; it is influenced by classical, popular, and non-Western sources. Examples of historical African American music, including swing, scat, modal jazz, and rap, and the libretto's emulation of contemporaneous literary styles, help recreate the "sound" of Malcolm's era. Although X's score features some improvisational passages, it is constructed primarily according to traditional operatic guidelines. It premiered at New York City Opera in 1986 to critical acclaim and box office success. A new production is currently in development for 2022. Recording available upon request.
Watch Excerpts | View the Score
Under the Double Moon (1989) 1 hr 45'
Libretto by Deborah Atherton
2 Tenors, Baritone, Soprano, Mezzo Soprano, Bass Baritone, Bass 
2(pic,afl)12(cbcl[bamboo fl])1/2120/timp.3perc/hp/str
Under the Double Moon is a science fiction opera about change and human choice. Set in the far future on the planet Undine, it tells the story of telepathic twins Tarj and Xola as they are forced to grow from troublemaking children into decision-making adults. Opera Theater of St. Louis presented the world premiere of this lyrical and urgent score in June 1989. Recording available upon request.
Tania (1992) 1 hr 30' (An Opera in One Act)
Libretto by Michael John La Chiusa
Soprano, Bass, Mezzo Soprano, Tenor, 2 Males, 4 Females
3ww.bn/2perc/pf/vn.vc.db
Loosely based on the kidnapping of Patricia Hearst in 1974 by the Symbionese Liberation Army, this darkly comic opera examines the loss and destruction of an identity and the collapse of an established social structure. Tania premiered at the American Music Theater Festival in 1992 followed by a European premiere with Musikwerkstatt Wien in 2003. Recording available upon request.
Watch the Making-Of Documentary | View the Score
Amistad (1997) (Reduced Orchestration 2008) 2 hr 40' 
Libretto by Thulani Davis
Soprano, 2 Mezzo Sopranos, 7 Tenors, 6 Baritones, Bass Baritone, 5 Basses; largely male chorus
2+pic.2+ca.2+bcl.2+cbn.4331timp.3percpf(cel).hpstr; Jazz ensemble: 2 reeds, trombone, bass
Reduced Orchestration: 2(pic).2(ca).2+bcl.2.2 Jazz ww/2.2.2+jazz tbn.0/timp.perc.jazz perc/cel.hp/str.jazz db
Originally inspired by Robert Hayden's poem "Middle Passage," the opera tells the story of the enslaved people who rose to overtake the slave ship Amistad. The tale of their subsequent trial and ultimate vindication in an American court of law also explores the emergence of the African American as a cultural entity. Commissioned and premiered by Lyric Opera of Chicago in 1997, the Spoleto Festival USA commissioned and premiered the reduced orchestration in 2008.
Listen on Spotify
For more information, please contact your local Wise Music Promotion Team. See Contact Us.
(February 2021)