Dance Series: Composer Profile | Sarah Kirkland Snider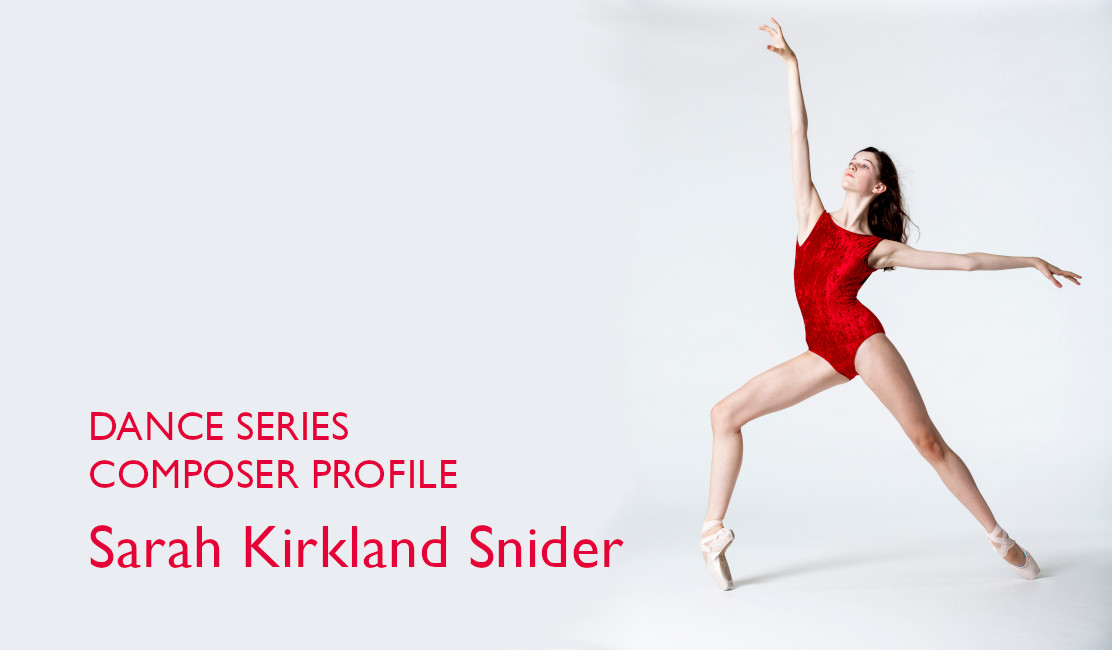 I love writing for dance. Creating the ballet 'Embrace' with choreographer George Williamson for Birmingham Royal Ballet was one of the most thrilling experiences of my career. I loved the process of collaborating with George hand-in-hand to create a story that could only be told through choreography and music. As a creator, I am deeply compelled by immersive atmospheres and vivid narratives. With its rich visual symbolism, layered emotional meanings, and unique relationship to time, dance offers a medium to explore these facets of storytelling in a way no other art form can. I hope to create many more works for dance in my career.
— Sarah Kirkland Snider 
 
Sarah Kirkland Snider writes music of direct expression and vivid narrative that has been hailed as "rapturous" (The New York Times) and "groundbreaking" (The Boston Globe). In 2018, Snider composed her first ballet score, Embrace, which was set to choreography by George Williamson, commissioned through Birmingham Royal Ballet's 'Ballet Now' initiative, and premiered at Sadler's Wells. Embrace is scored for full orchestra and weaves together new music with existing material from Unremembered and Hiraeth.
Snider's third full-length album, Mass for the Endangered, was released September 25, 2020 on Nonesuch Records. Mass for the Endangered "proclaims Snider's technical command and unerring knack for breathtaking beauty" (The New Yorker), and features text from the Latin ordinarium interspersed with original poetry by Nathaniel Bellows. This timely work for chorus and ensemble both celebrates and elegizes the natural world, appealing for greater awareness, urgency, and action toward its stewardship.
Mass for the Endangered follows two albums of orchestral song cycles, Penelope (2010) and Unremembered (2015), which both received accolades from NPR, The Washington Post, The Nation, and Time Out New York. Snider has been commissioned by the New York Philharmonic, and the Detroit and North Carolina Symphony Orchestras, and her music has been performed at venues including Carnegie Hall, Lincoln Center, the Kennedy Center, Big Ears Festival, the Elbphilharmonie, and the Southbank Centre among many others. The worlds of emotion and beauty created by her eloquent, nuanced scores are perfect sources of inspiration for new dance projects.

Sarah Kirkland Snider
Works for Dance
Thread and Fray (2006)
 

 
You Are Free (2015)
 

Includes optional field recording of Arvo Pärt and Björk in conversation.
 
The Currents (2013)
 

 
Pale as Centuries (2011)
 

 
Passenger Seat (2005)
 

 
The Reserved, The Reticent (2005)
 

 
Daughter of the Waves (2011)
 

 
Ave (2002)
 

 
Chrysalis (2006)
 

 
Unremembered (2016)
 

Instrumental versions available upon request.
 
Penelope (2009)
 

Instrumental versions available upon request.
 
Mass for the Endangered (2018)
 

 
For more information, please contact your local Wise Music Promotion Team. See Contact Us.
(October 2020)