Per Nørgård at 90 in 2022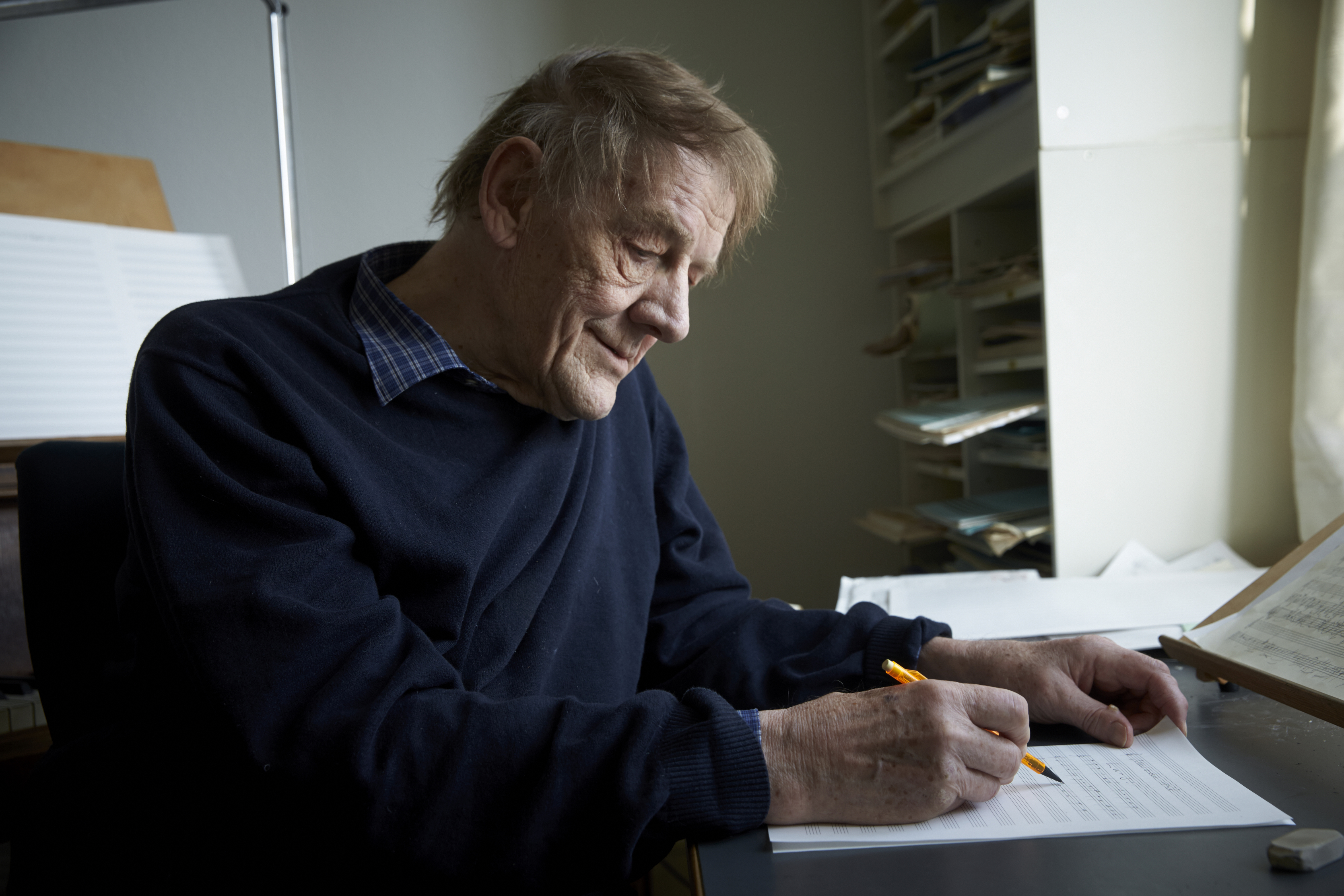 Boundless Danish ingenuity. Presently the world's greatest composer – Thomas Roth, Opus, nr. 22


Danish composer Per Nørgård will celebrate his 90th birthday on July 13, 2022. Probably the most prominent composer, with an overwhelming catalogue of orchestral works, chamber music, choir music and operas. Per Nørgård has it all. A traveller of genres, inspirations and ideas.
Looking ahead to this milestone, Edition Wilhelm Hansen and Wise Music Classical present four favourites and two playlists to spotlight the master composer's substantial catalogue of works for chamber and orchestra. We hope you'll consider these exciting pieces for concert performances, dance creations, and other live and virtual presentations to mark the 90th birthday of Per Nørgård.
Our favourites

Symfoni nr.3 (1972), Orchestra & 2 Choirs
This is a symphony that sounds complicated, yet it is both cogent and direct. It is a work that embraces modernism, but is entirely founded on contemporary and classical models. It radiates emotion and depth of feeling, though in a somewhat incongruous way. The 86-year-old composer, who was present for this premiere, had good reason to be pleased with this concert - certainly one of the most note-worthy first performances of this year's Proms.
– Marc Bridle, Opera Today

Bach to the Future (1997), Percussion Duo and Orchestra
A thrilling play with virtuosic marimba playing, whiffs of music by Bach and Nørgård's trademark playful complexity.

Rejse ind i den gyldne skærm (Voyage into the Golden Screen) (1968), Chamber Orchestra
A milestone in Nørgård's work with the Infinity Series. A work in two movements that are sonically contrasting, but still woven together by a strong sense of movement – from one point to another, and of moving about inside the sound and your own experience of the music.

Siddharta (1979), Opera
Nørgård's largest opera, a re-telling of the story of how Siddharta transformed and became Buddha. The music is everything from painfully naïve to shockingly brutal.
Orchestral

Chamber
Per Nørgård has travelled far and wide in the realm of music. Few composers have delved as deep into so many different genres as masterfully as him. On his musical journey there has always been the presence of an unrestrained curiosity which ties this very diverse and voluminous list of works together.
In Nørgård's earlier works one finds a Nordic tone and a stringent approach to composing which reflects his inspiration from among others his teacher Vagn Holmboe and from Sibelius whom Nørgård greatly admired in his youth. Nørgård's most well-known trademark is his use of the tone generating infinity series, which he began incorporating into his compositions in the 1960s.

With more than 400 titles to his name Nørgård has been very productive with works from a broad spectrum of genres. Choral music has played a significant role in his composition, e.g. Wie ein Kind (1980) and Winter Hymn (1984). Among his chamber works his ten string quartets stand out. His operas Siddhartha (1972) and Gilgamesh (1979) are central not only to his own output but also in the Danish opera canon. His eight symphonies stand as major works in Danish compositional music and he has stated that he considers them summaries and milestones of his musical journey.

Per Nørgård has not travelled a straight and narrow path. The rough and almost abstruse musical journey that he has been on for most of his life has been necessary for him to end up where he is today with such an important back catalogue.
For more information, please contact your local Wise Music Promotion Team. See Contact Us.


(March 2021)