International Women's Day 2020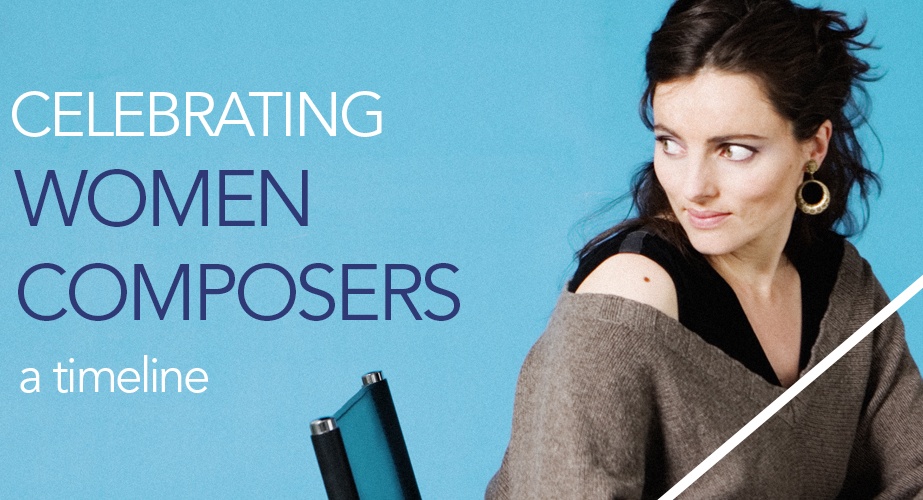 This International Women's Day, Sunday March 8, we have released an update of our Celebrating Women Composers: A Timeline interactive brochure. For almost one hundred years, the publishing houses of Wise Music Group have represented leading women composers and continue to find ways in which to bring great music to the stage. Since the booklet's inaugural publication, we have continued to commit to that and so now welcome Du Yun and Jeanine Tesori to the group.
This new 2020 edition includes such leading Russian names as Sofia Gubaidulina, Galina Ustvolskaya and Elena Firsova, represented in America and Canada through G Schirmer, as well as new signings and a selection of updated works. There are of course many others too, such as Ethel Smyth, Elisabeth Lutyens and, indeed, Oscar-winning composer Hildur Guðnadóttir (whose work we will be further celebrating in the coming months) who also represent the diversity of our catalogue and are all equally worthy of discovery.

This booklet is laid out by composer in chronological order and emphasises the rich history and output of their orchestral music in particular. We have included brief introductions to each composer, repertoire listings and links to explore the music further online.


Looking ahead: Saariaho 70 in 2022

Kaija Saariaho's music is sought after all the world over, her scores beguilingly beautiful and at times awesome. In October 2022 she celebrates her 70th birthday,offering a specific reason to celebrate the her amazing body of work, Country premieres of some works are available and new work continues to be added to the catalogue. For more information on Saariaho's work contact promotion@wisemusic.com.

Introducing: Du Yun

Born and raised in Shanghai, China, and currently based in New York City, Du Yun works at the intersection of opera, orchestral, theatre, cabaret, musical, oral tradition, public performances, electronics, visual arts, and noise. Known for her "relentless originality and unflinching social conscience" (The New Yorker) , Du Yun's second opera, Angel's Bone (libretto by Royce Vavrek), won the 2017 Pulitzer Prize; in 2018 she was named a Guggenheim Fellow; and in 2019, she was nominated for a Grammy Award in the Best Classical Composition category for her work Air Glow.


(March 2020)